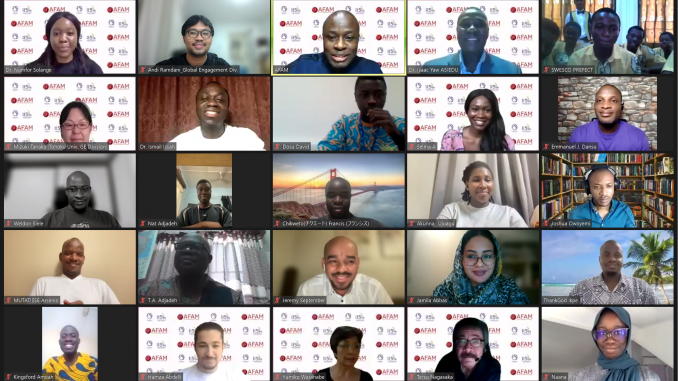 African alumni of Tohoku University who are affiliatedwith the African Association in Miyagi (AFAM) successfully held an online webinar titled "African Alumni Vision for Africa" on August 21st, 2022, with 73 participants including African alumni who are living in Japan, African continents, as well as other areas such as EU countries.

Isaac Yaw Asiedu, alumnus of Graduate School of Engineering who also the president of AFAM, stated in his opening remarks that "This event holds as a steppingstone for a stronger cooperation between Tohoku University and AFAM, as well as deepen networking between Africans who attend the event".
On the second opening remarks, Tetsuya Nagasaka, Vice-President for Social Outreach and Research Collaboration, explained that AFAM is an essential organization for building Tohoku University's networks. "In the year of its 115th founding anniversary commemoration, I am very pleased with the very first event held by a group of African alumni, collaborating with AFAM and Tohoku University, and I hope that this webinar will further expand the network among African alumni and further strengthen ties with Tohoku University".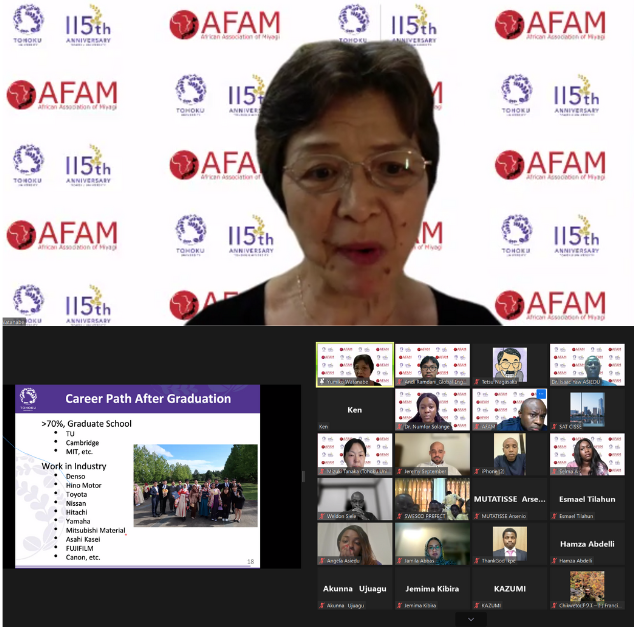 The presentation from five presenter was very informative and insightful. Representing Tohoku University, Yumiko Watanabe, Professor and Coordinator of Future Global Leadership (FGL) Program, from Global Learning Center open the presentation session with introducing programs and scholarships provided for international students. She also explained that there are eight institutions that have the department level of agreement in Africa, include Kenya, South Africa, Nigeria, Zambia, and Egypt.
As the second speakers, Selma Awumbila, alumnus of Graduate School of International Studies, who work as lawyer and Acting Legal Manager in Ghana GRID company, provided her vision for Africa as the united continents in terms of trading activity. He emphasized that the most significant barrier to development in West Africa is a lack of electrical supply, and that having energy-related infrastructure in place will help with health, education, clean drinking water, and security.
Emmanuel Jesuyon Dansu, alumnus of Graduate School of Information Science and lecturer at the Federal University of Technology in Akure, Nigeria, described the activities he is currently working in. He also emphasized his willingness to strengthen connections between the Akure Institute of Technology in Nigeria and Tohoku University on the African side to help Africa tackle its challenges.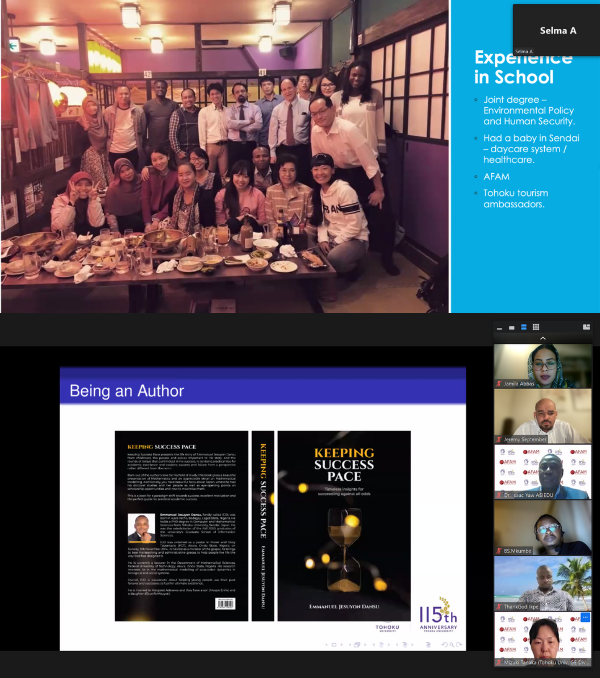 Fourth presentation is presented by Hamza Abdelli, alumnus from Graduate School of Engineering, and now working as a MEMS Design and Development Engineer at Silicon Microgravity in Cambridge, UK. On his presentation, Hamza said that he didn't take the failure as a boundary, he learns a lot from what makes him failed and figure out another way to lead him into the success.
Based on his experience, he would like to motivate other African youth to not give up easily. Hamza provides his vision to African in four keywords, connect, reflect, inspire, and share experiences. Briefly, with connecting each other despite nationality, culture, and beliefs, Africans could organize inspirational activities such like speeches, workshops so it could expose and orient the talent in the African young generation.
Last inspiring yet motivating presentation delivered by Jemima Kibira, alumnus from Graduate School of Medicine. Jemima who working as an Executive Director of the Africa Women's Health Foundation in Kenya, realized that the potential area to develop Kenya is from agriculture and technology. Jemima belief that enhancing technology will also help farmers to access to finance, farm inputs, farming knowledge, skill development, and markets.
Before the online webinar end, other participants has gave feedback on the five speakers, and a robust conversation ensued about what individuals with international learning experiences could provide to Africa's future.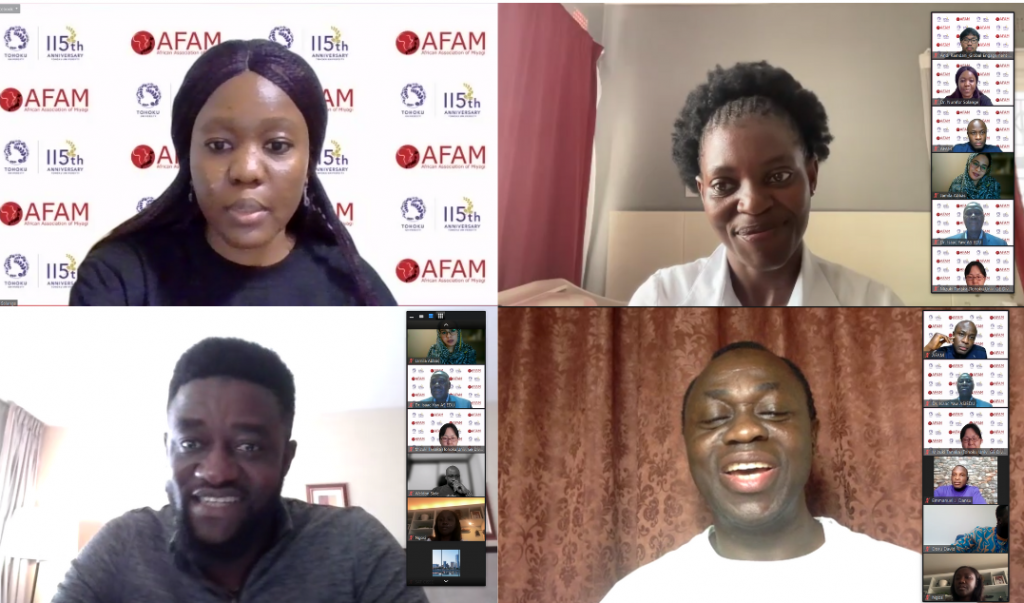 These alumni, who acquired valuable education and experience while studying abroad, are keenly conscious of the need to advance the skills and knowledge of Africa's younger generation.
The event showed that young Africans who obtained outstanding experiences and knowledge while studying abroad have a strong interest and awareness of the development of their own countries and Africa as a whole in a wide variety of disciplines, and Tohoku University aims to strengthen its ties with these graduates in the future.