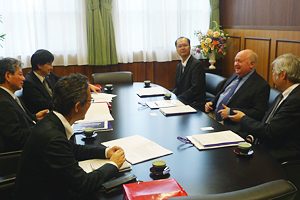 On June 12, 2014, T.I.M.E Secretary General Paul Crowther paid a courtesy call President Satomi and Executive Vice President Ueki.
T.I.M.E was founded in 1989 with the goal of raising top level engineers by creating Master/PhD-level double-degree programs between leading European science and technological universities. At present it has 53 member schools in 20 countries, including Tohoku University and Keio University in Japan.
During this visit, Executive Vice President Masahiro Yamaguchi (Supervisor of International Exchange) and Associate Professor Hirokazu Moriya (from the School of Engineering's Division of International Education & Exchange) from Tohoku University, as well as Keio University's Professor Shinnosuke Obi also attended in order to discuss how to use T.I.M.E in order to promote further international education.
Tohoku University will host T.I.M.E's annual meeting in October of 2015.