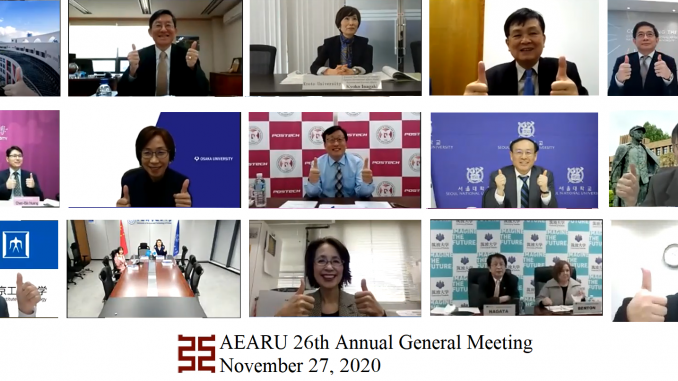 On November 27, Executive Vice President Toshiya Ueki attended the Association of East Asian Research Universities' (AEARU) 26th Annual Meeting and also its 47th Board of Directors Meeting, which were both held online.
The Annual General Meeting is the most important of the association's activities, as it provides the presidents and other leading representatives of major research universities in the East Asian region the opportunity to get together to evaluate the association's activities and to share knowledge on education and research exchanges. A total of about 50 people, including the presidents and vice presidents of member universities, attended this year's meeting.
Reports on the implementation of student programs were presented, and the plans for future programs were discussed. In addition, attendees enthusiastically discussed the "Global Learning Initiative Program", which is an online student exchange initiative currently being coordinated by AEARU.
In addition, EVP Ueki represented Japan at the 47th Board of Directors Meeting, held prior to the Annual General Meeting, and exchanged opinions with the other attendees on AEARU's activities and budget.
Due to the ongoing pandemic, the two meetings were held online for the first time, and the discussions held demonstrated the willingness among member universities to continue in their efforts to improve research and education in the East Asian region.
The next Annual General Meeting is due to be held in the fall of 2021.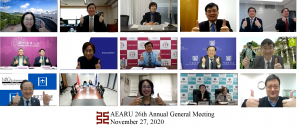 *About AEARU (The Association of East Asian Research Universities)
AEARU was founded in 1996 with the goal of promoting long-term mutual exchanges, between leading research-oriented universities in East Asia. It is comprised of 19 member universities from around the region. Tohoku University has been a member since 1998.