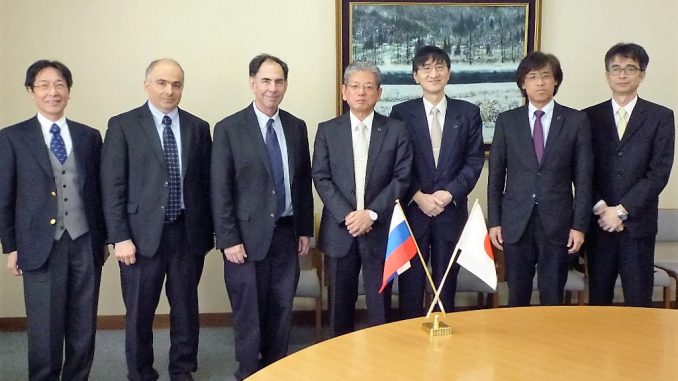 On February 11, 2015, Professor Edward Crawley, President of Skolkovo Institute of Science and Technology (Russia), and Professor Mikhail Myagkov, Vice-President for Academic Affairs and International Relations, paid a courtesy visit on President Satomi. Executive Vice Presidents Ueki and Akeno also attended this meeting, where they exchanged opinions on future exchanges between the two institutions.
Prior to the meeting, the party visited the Institute of Fluid Science, where they met with Director Shigeru Obayashi and Professor Kaoru Maruta to discuss current research projects. Following that, they listened to a presentation from the Director of Advanced Institute for Materials Research, Professor Motoko Kotani, and toured Professor Dmitri V. Louzguine's laboratory.
About Skolkovo Institute of Science and Technology(Skoltech)
– Founded in Skolkovo (a suburb of Moscow) in 2011, as part of former Russian president Medvedev's Skolkovo Innovation Center project.
– A research university working in cooperation with the American Massachusetts Institute of technology (M.I.T), incorporating an education system to M.I.T's. Courses are taught in English showing their mission to become an international university.