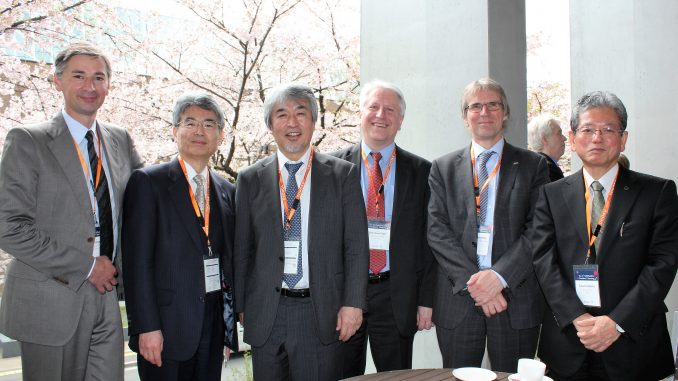 On April 16th and 17th, 2015, Tohoku University hosted the 4th German-Japanese University President's Conference, a HeKKSaGOn consortium activity. "Building Venues for the Creation of new Knowledge" was the theme of the 4th conference.
At the opening ceremony, President Susumu Satomi delivered the opening remarks, followed by greetings from Dr. Ramin Yahyapour, the representative from the University of Gottingen, which was the previous host university. Following this, the attendees heard from Dr. Stephan Grabherr, Minister-Counsellor, Economic and Scientific Affairs, Embassy of the Federal Republic of Germany in Japan, as well as from Dr. Yuichiro Anzai, President, Japan Society for the Promotion of Science (JSPS).
For the Keynote Speech, Executive Vice President Sadayoshi Ito spoke about the high potential and value in academic exchanges between Germany and Japan. Further, by using data on research exchanges and jointly published papers, EVP Ito showed how HeKKSaGOn is a valuable scheme for the creation of new knowledge.
On the second day, workshops in eight different fields were held on the Katahira and Kawauchi campuses, where researchers from the member universities shared the results of their joint research, and planned future collaborations.
Additionally, at the Closed President's Meeting, Executive Vice President Toshiya Ueki led discussions on the future activities of the HeKKSaGOn consortium, the content of which was summarized in a Joint Statement that was signed by the president or representative of each university at the end of the conference.
In total, the conference was attended by approximately 150 people, the most attended HeKKSaGOn conference to date. This high level of participation shows each member university's commitment to the consortium, and their hopes for the results it will generate in the future.
The 5th HeKKSaGOn conference is scheduled to be held in the autumn of 2016 at Karlsruhe Institute of Technology in Germany.
http://www.tohoku.ac.jp/en/news/university_news/news20150428.html