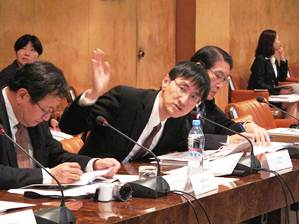 On September 10th 2015, EVP Toshiya Ueki attended the 12th Japan-Russia Science & Technology Cooperation Committee, an intergovernmental conference held in Moscow.
At the meeting, representatives from both countries exchanged information on national policies regarding science and technology, as well as presentations on recent developments in fields of cooperation. Since first being held in February 1993, this meeting has been held once every few years.
At this meeting, relevant ministries, affiliated organizations, and major universities involved in exchange between Japan and Russia took part in discussions and exchanges of opinions regarding successes and new developments in inter-university exchanges.
EVP Ueki gave a presentation on Tohoku University activities serving as the Japan-side organizer of the Japanese-Russian Forum of Rectors, as well as the recent initiatives for Japan-Russia university exchanges, and introduced the collaborative research activities between researchers from Tohoku University who serve as project leaders with Russian researchers as part of the Russian government-funded mega-grant project.
Following the conclusion of the meeting, EVP Ueki went to Novosibirsk, area of Siberia, where he visited the Siberian Branch of the Russian Academy of Sciences (SB RAS) and Novosibirsk State University (NSU). As part of MEXT's "Re-inventing Japan" project that Tohoku University was selected to be part of, EVP Ueki proposed the conclusion of a doctoral course-level student exchange agreement with SB RAS' Chairman Academician Aseev Alexander Leonidovich, and also took concrete steps towards establishing graduate student exchange by having an exchange of opinions with NSU's Rector Mikhail P. Fedoruk.