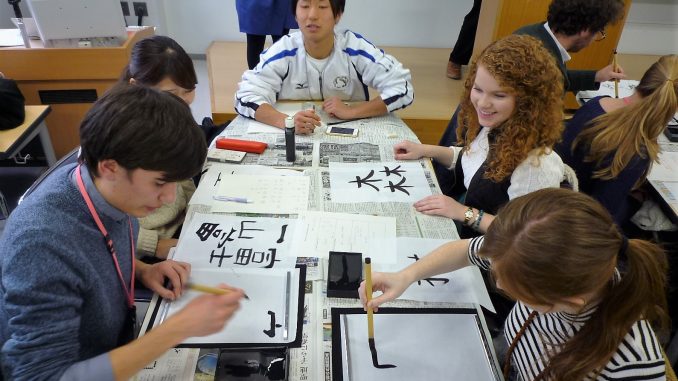 On January 12th, 2016, approximately 50 university students from the USA visited Tohoku University as part of their participation in the JICE KAKEHASHI Project by the Japanese government.
While at the university, the students were introduced to the Tohoku region and Sendai, learned about Tohoku University, and heard from foreign students what life at the university is like. After a discussion of Japanese culture, the students were shown the Kawauchi no Mori Dining Hall, where they enjoyed lunch with volunteer Japanese students. After lunch, the volunteers gave a tour of the Kawauchi campus, before coming together to learn about Japanese calligraphy (shodou), before attempting to write their own Japanese characters, and voted on which they all thought was the best calligraphy in the group.
Although their time at the university was brief, many students spoke fondly of their time in Sendai, and of their experiences at the university.