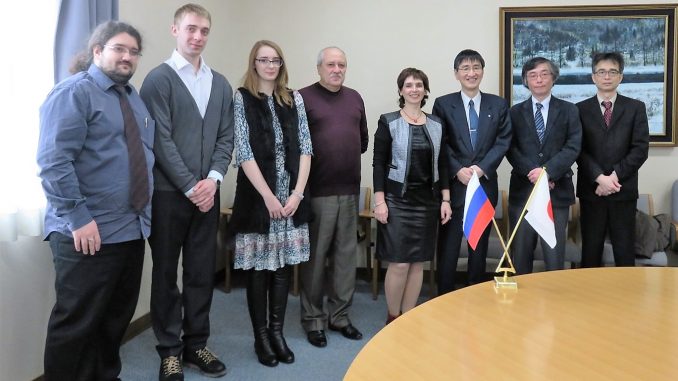 On February 15th, 2016, Prof. Elena Voytishek (Head of the Department of Oriental Studies, NSU), Prof. Pavel Volkov (Department of Humanities, NSU) and three NSU graduate students paid a courtesy visit on Tohoku University Executive Vice President Toshiya Ueki.
Prof. Hiroki Oka (Director, Center for Northeast Asian Studies, Tohoku University) also sat in on this meeting, where they discussed strengthening future research and student exchanges in fields in which both universities excel in.
Following the meeting, a Russia Japan Workshop hosted by Tohoku University's Office of Japan-Russian Relations, the Graduate School of Arts and Letters, Graduate School of International Cultural Studies, Center for Northeast Asian Studies, as well as Novosibirsk State University's Department of Humanities on the topic of "Asian Studies at NSU and TU" was held, with approximately 10 professors and students from both universities presenting.
The first Russia Japan Workshop was held in 2013 on the subject of Japanese Language Education. This workshop was followed by the 2nd workshop, which was held in Japanese on the topic of Japanese culture, and a 3rd workshop held in English on the topic of Asian Studies. The workshops see a yearly increase in the range of topics and participants.