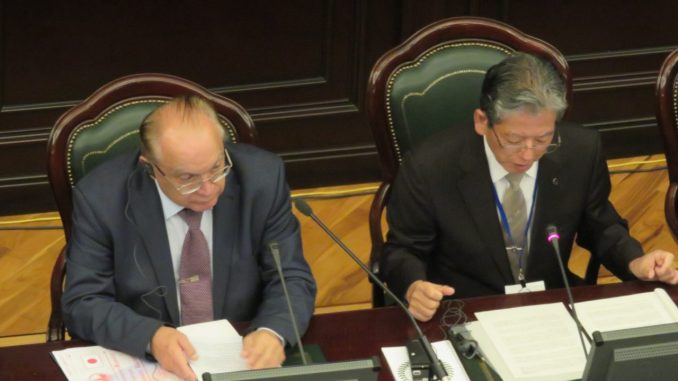 The 6th Japanese-Russian Forum of Rectors was held on October 6 in Moscow, with Tohoku University President Susumu Satomi and Lomonosov Moscow State University Rector Victor Sadovnichy serving as joint-chairmen.
In line with this year's theme – "Universities and Society: Science and Education in the Modern World" – participants discussed ways to further encourage education and research exchanges between Japanese and Russian universities, and to jointly address the challenges of a rapidly globalized world.
President Satomi, Rector Sadovnichy and Minister-Counselor Kotaro Otsuki of the Embassy of Japan in Russia, spoke at the opening of the event. Representatives from several universities then gave keynote speeches, outlining policies they've adopted to promote and strengthen bilateral relations.
The Forum, which was held at Lomonosov Moscow State University, attracted participants from 20 Japanese and 46 Russian universities. The outcome of their discussions was compiled into a communique and signed into agreement by President Satomi and Rector Sadovnichy, who served as representatives of the two countries.
On the sidelines of the Forum, the two men also signed a Memorandum of Understanding to set up a jointly supervised degree program between Tohoku University's Faculty of Arts and Letters, and Lomonosov Moscow State University's Faculty of Psychology.