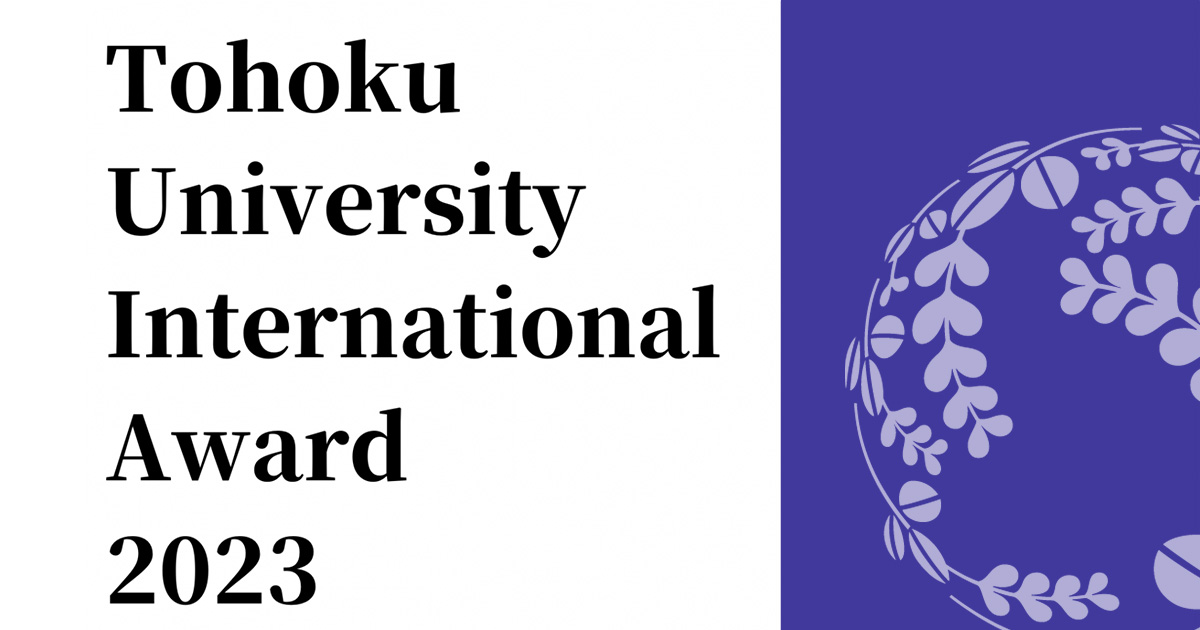 After last year's edition held as a project for commemorating the 115th anniversary of Tohoku University's founding and its 100th anniversary as a comprehensive university, we are proud to announce the 2023 edition of the Tohoku University International Award.
The purpose of this award is to celebrate the achievements of Tohoku University alumni. It aims to honor individuals with a connection to Tohoku University who residing outside of Japan have demonstrated notable accomplishments in various fields, thereby contributing to the improvement of Tohoku University's international presence. Additionally, it seeks to commend activities planned and carried out primarily by Tohoku University alumni, which have significantly fostered solidarity among Tohoku University and its alumni, or among fellow alumni themselves.
Once again, this year, we are soliciting candidates for the "Tohoku University International Award" as outlined below. We kindly request your recommendations (external nominations only) to assist us in the selection of the award winner.
The winner will be determined by the selection committee, and the announcement is scheduled to be made during the Tohoku University 116th Anniversary Homecoming Day, which will take place on September 30th this year. Additionally, the recipient will be invited to the award ceremony scheduled for December (travel expenses will be covered by Tohoku University).
To learn more about the 2022 award winners click here.
1.About the candidates
The award recognizes and honors one alumnus or former employee who, residing outside Japan, have made a significant positive contribution to the society and university's international presence through various fields (for example: academic, cultural, business, artistic or social activities).
2.Application deadline
August 31st, 2023 (Thursday) 17:00 (JST)
3.How to apply
Use the Google Form below to submit nominations and documents to Tohoku University's Global Engagement Division.
URL: https://forms.gle/QjXWCTYvtnu83usV7

※Nominations from countries or regions where Google Forms are inaccessible should first contact Tohoku University's Global Engagement Division (kokusai-r@grp.tohoku.ac.jp).
*Please obtain the consent of the individual when making the recommendation.
*There is no limit to the number of recommendations.
*For more details about the Tohoku University International Award and Overseas Alumni Association Award, please refer to the application guideline from the link below.
Application Guidelines:https://overseas-alumni.bureau.tohoku.ac.jp/wp-content/uploads/2023/07/2023_Awards_Eng_guidelines.pdf
4.Treatment of Personal Information

The collected data will be handled appropriately, taking into consideration the "Tohoku University Personal Information Protection Regulations" and the personal information regulations of each country.
For more info:
Global Engagement Division
TEL:022-217-4844   E-Mail:kokusai-r@grp.tohoku.ac.jp