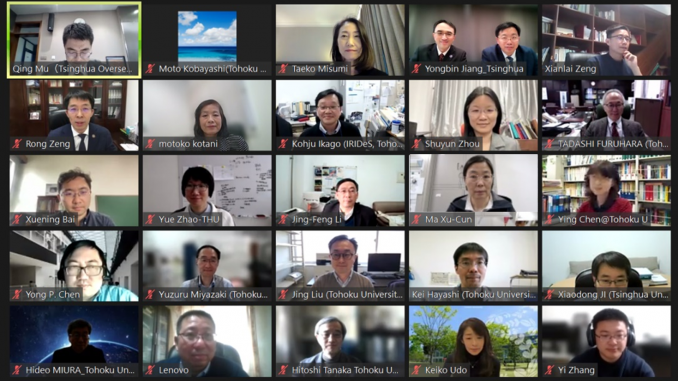 Tohoku University and Tsinghua University held an online meeting on March 30 to hear updates on projects funded by the Tsinghua University-Tohoku University Joint Research Fund, which is being supported by both universities.
The Tsinghua University-Tohoku University Joint Research Fund was established in 2019 with the aim of encouraging joint research between the two universities, who work together on all aspects, from the initial open call through to the selection of projects. The selected projects are each being funded for two years.
The main fields that have been targeted are those which both universities are very strong: materials science, spintronics, and disaster science. An open call for new participants last year was expanded to include all fields, with the aim of strengthening prioritized fields and developing new fields for joint research.
The meeting began with opening remarks from Tsinghua University's Vice President ZENG Rong (Research). The representatives of the six projects adopted in 2019 then reported on the final results of their joint research and future prospects. Representatives of the four projects adopted in 2020 and the four projects adopted in 2021 also provided updates on the progress of their research.
Researchers have been unable to travel to meet in person for two years because of COVID-19, but new ways of working together have emerged, such as deliberating matters online, and they said that they have been responding to the situation well and have steadily produced results, focusing on writing co-authored papers.
In her closing remarks, Motoko Kotani, Tohoku University's Executive Vice-President (Research), said that she is confident that the joint research produced through this fund and the friendship between the two universities will continue to develop after the funding period ends.
Tohoku University will continue to support the development of joint research between the two universities through this fund.