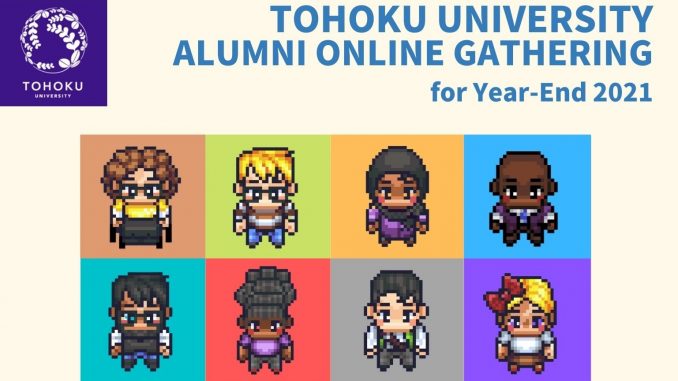 To celebrate togetherness and tighten the alumni network, this year Tohoku University is calling on all alumni to participate in an end-year virtual event called Tohoku University Alumni Online Gathering for Year-End 2021 on December 17th in RPG-like virtual world and unique interactive spaces, Gather.
Through digital name card exchange rally and free talk session, this event will be focusing on free interaction between Alumni as participants so they can build their network for the future, catch up on the old times, and walk down memory lane.
Tohoku University also provides its free virtual exhibition area to open opportunities for anyone who wants to share their current activity (work, research, hobby, etc.), promotes their start-up company, looks for partners to collaborate with in research, or to those who are trying to look for teammates. In this session, other participants who visit the exhibition area can interact directly with every exhibitor about their presentation.
Let's all revisit the days gone by, talk about your 2022 dreams, and get together on Gather!
---

KEY INFORMATION
Date and Time : 19:00 – 20:30 (JST), December 17th (Friday), 2021
Location       : Gather (Link will be sent to you after your registration completed)
Language     : English
Registration     :
https://forms.office.com/Pages/ResponsePage.aspx?id=KulI-PplKUey5urGZ90bw48rHWAPtBlHizFxVH_MwChUN0xYQkFWOVUxNjcwT1VRNk00MTg5WllJUC4u
a) Alumni who have been registered as a member of the Tohoku University Alumni Network, are ELIGIBLE to attend the online event.
b) <For Unregistered Member> Tohoku University will register you with the network on your behalf using your registration information for this event. Please note that in this case, you will also need to agree to the Terms of Service and privacy policy of the network. Once Tohoku University finished processing your registration, you will receive the completion of registration notification via e-mail and you need to reconfigure your password.
c) <For Registered Member> Tohoku University will update your My Page with the information you have entered to participate in this event.
d) Your digital name card for this gathering will be provided by Tohoku University based on the information you provide through the registration form.
*) Please note that we will proceed with your registration process only after we have confirmed that you have enrolled at Tohoku University.
Registration Deadline: December 14th (Tue), 2021 (No later than 17:00 JST)
---

DOWNLOAD FILE

1. Gather User Manual
2. Gather Exhibition Contents Rules and Objects Setting Manual
---
CONTACT
Global Engagement Division, General Affairs and Planning Department, Tohoku University
Tel.: +81-22-217-4844
Email: kokusai-r@grp.tohoku.ac.jp