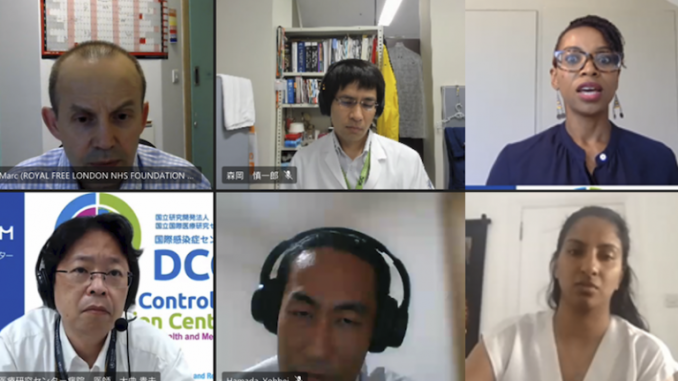 ◎This symposium was funded by the "Tohoku University-University College London Collaborative Research Fund 2021".
To address some of the unknowns about long COVID such as the health burdens, risk factors, biological mechanisms and possible treatment options, researchers at UCL and Tohoku University are working with the National Center for Global Health and Medicine (NCGM), Royal Free NHS Trust and London North West NHS Trust.
The aim of the project is to develop a standardised protocol for a UK-Japan cohort study on long COVID.
The joint consortium is being led by Dr Lele Rangaka, Clinical Associate Professor at the UCL Institute for Global Health, and Dr Norio Ohmagari*, Visiting Professor at the Tohoku University Graduate School of Medicine.
On 10 June 2021, the researchers held a joint symposium, bringing together experts in the UK and Japan to review the landscape of research on long COVID conducted at UCL, Tohoku University and other institutions.
Commenting on the symposium, Dr Lele Rangaka, the lead UCL academic for the project, noted: "It was a riveting and insightful meeting where leading experts in both Japan and the UK presented their ongoing research on long COVID. It allowed us to understand research gaps in long COVID and identify areas for possible collaboration."
Building on experiences and knowledge gained in both countries, the researchers will continue to explore opportunities for international research collaboration to address challenges associated with COVID-19.
The recording of the symposium is available to view here.
* Dr Ohmagari is mainly working as the Director of the Disease Control and Prevention Center, NCGM and as the Director of the AMR Clinical Reference Center.