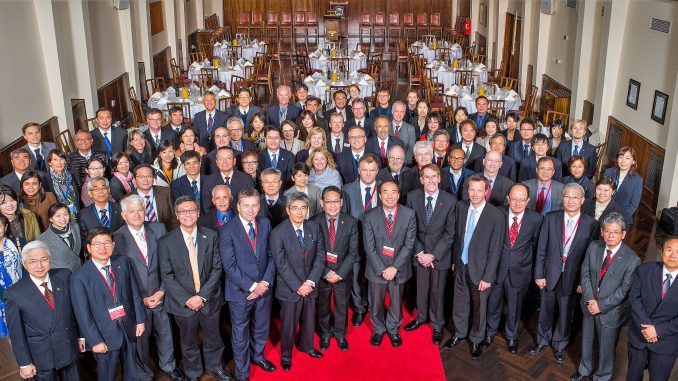 Between June 23rd and June 25th, President Satomi and Executive Vice President Ueki attended the APRU 18th Annual Presidents Meeting, held at Australian National University in Canberra. The Annual Presidents Meeting functions as APRU's annual general meeting, and this time had 19 presidents among the 100 participants from 30 universities present.
On the first day there were forums on higher education in Australia, as well as the current status and future outlook of 'big data' presented by seven of the Presidents. On the second day there was discussion and presentations on APRU's activities and plans for the future.
Prior to the annual meeting, President Satomi visited Australian National University and signed an Academic Exchange Agreement. Following this, Prof. Yoshiro Hirayama of the Graduate School of Science and Prof. Chennupati Jagadish of ANU's Department of Electronic Materials Engineering (professors with a deep history of research exchange) gave laboratory tours.
On the 26th, as part of the annual meeting's program, the group visited the University of New South Wales University (UNSW) and Sidney University (USYD). At UNSW, they visited the Lowy Cancer Research Centre, and at USYD the visited the Charles Perkins Centre (a diabetes and cardiovascular research center). While viewing these latest research facilities, the Presidents also discussed future research and education exchanges.