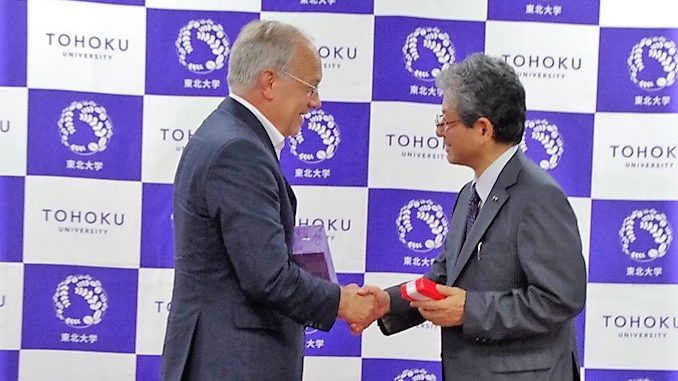 On July 10th 2014, Federal Councilor Johann Schneider-Ammann, the Swiss Minister of Economic Affairs, Education and Research, as well as a group of Swiss government ministers, representatives from several Swiss corporations, as well as the ambassador of Switzerland to Japan paid a courtesy call to President Satomi and Executive Vice Presidents Ueki and Shindo.
With Academic Exchange Agreements between Tohoku University and the École polytechnique fédérale de Lausanne and Eidgenössische Technische Hochschule Zürich in Switzerland, as well as numerous collaborative research projects and joint papers, there are many deep ties between Tohoku University and Switzerland. Tohoku University hopes for even further collaborative educational and research activities in the future.
After a short meeting, the group listened to a lecture by WPI-AIMR Director Motoko Kotani and toured Prof. Takashi Takahashi's (Physics) research laboratory.