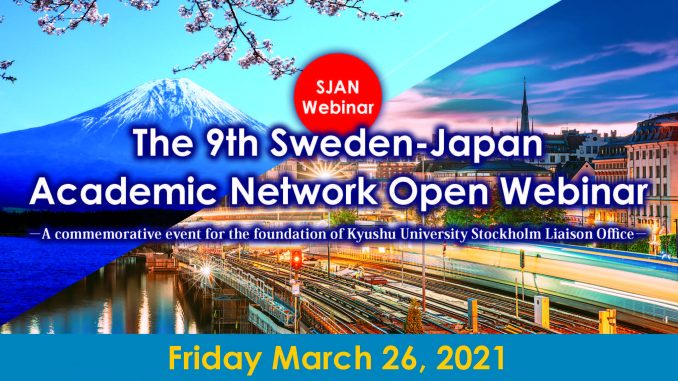 Tohoku University has participated in "MIRAI2.0", a collaboration between 19 Swedish and Japanese universities, aiming to contribute to long-term research collaboration and to promote Sweden and Japan as nations of world-leading large-scale research infrastructure since 2020. We are promoting collaboration among the member universities in the fields of Materials Science, Sustainability, Ageing, and AI.
With the establishment of Kyushu University (one of the member universities of MIRAI 2.0) Stockholm Liaison Office, an open webinar will be held jointly with the JSPS Stockholm Office, the Royal Swedish Academy of Sciences and the Embassy of Japan in Sweden.
From Kyushu University, a lecture by Distinguished Professor Chihaya Adachi who is leading the world in the field of OEL (Organic Electro-Luminescence) research will be taking place. From the Swedish side, Prof. Olle Inganäs, Professor Emeritus of Linköping University and a member of the Royal Swedish Academy of Sciences, will give a lecture.
Anyone can watch it for free, so please feel free to register.
Date and time : Friday, March 26, 2021, 18:30 – 20:00 (Japan time)
Platform : Zoom
Language : English
Registration : https://reg34.smp.ne.jp/regist/is?SMPFORM=lepf-lfpboh-f82588ceda205aea9c88a83c2a6f3269
*Registration in advance is required by March 25.
For more details, please refer to the attached flyer and following website.
https://www.kyushu-u.ac.jp/en/events/view/185
And for the detailed information on MIRAI2.0, please visit the following.
https://web.tohoku.ac.jp/ged/consortia-2/mirai-2?lang=en