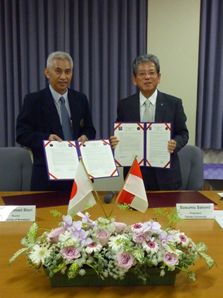 On September 24th 2014, President Satomi (Tohoku University) and Rector Mohammad Bisri (University of Brawijaya) concluded an Academic Exchange Agreement between their respective universities.
Also attending the signing ceremony from University of Brawijaya was Dean Faculty of Administrative Science Bambang Supriyono, Lecturer in Master Program, Faculty of Administrative Sciences Irwan Noor, Coordinator of International Programs Andy Fefta Wijaya, accompany of Rector Titik Winarni, and Head of HRM Rosadah Augstin Syarif. Also in attendance from Tohoku University was Executive Vice President Toshiya Ueki, Dean Takashi Kuroda and Professor Dinil Pushpalal of Graduate School of International Cultural Studies, Dean Michio Komai and Professor Hitoshi Yonekura of Graduate School of Agriculture, Dean Toshiaki Yoshioka and Associate Professor Daisuke Komori of Graduate School of Environmental Studies, and Director of International Exchange Division Kazuyuki Konno.
Prior to the ceremony, Rector Bisri and his party enjoyed a discussion with those from the Graduate School of International Cultural Studies. Following this, they visited the School of Engineering laboratories of Hitoshi Tanaka (Environmental Hydrodynamics) and Yu-You Li (Environmental Biotechnology). They also had a guided tour of Ecollab. by Kazuyuki Tohji (Professor of Graduate School of Environmental Studies), and were shown Tohoku University's cutting-edge research.
Located in Malang City in east Java province, the distinguished University of Brawijaya has 12 departments and is a leading university in Indonesia. Ties between Tohoku University and University of Brawijaya date back to February, 2007, when interest in Tohoku University's Food & Agriculture for Human Security Program was used to establish a double-degree Linkage Program with Faculty of Administrative Sciences, and both universities began accepting master-degree level exchange students.
It is hoped that this agreement will lead to even more exchanges between the two universities.