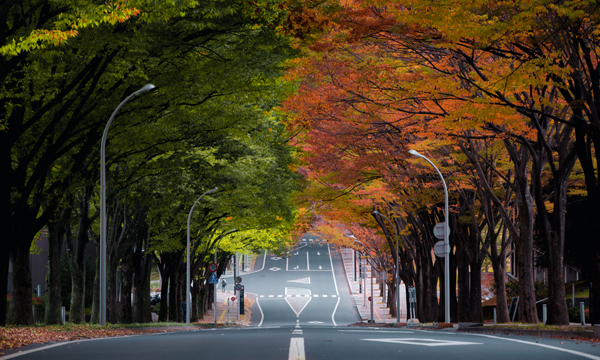 We have all been through a tough time this year due to the effects of the Covid-19 pandemic.
Now that the end of the year is approaching, how about spending time with some of your fellow alumni from around the world?
At this event, four alumni from various fields will share their experiences of the pandemic, the impact it has had on their work and lifestyles, and how they are reacting to it. The speakers will also speak about how their careers have developed since their graduation.
Participants will have the opportunity to interact with the speakers, who will be happy to respond to a wide range of questions and comments.
This event is open to all past and present students, researchers and faculty members of Tohoku University, but registration is required.
In addition, the event is being held as part of a special event, "Tohoku University Online Alumni Festival". More information about this special event will be available on its dedicated website (https://koyusai.shuyukai-tohoku-u.net/).
---
Speakers
1.Dr. Parichat Wetchayont 
Lecturer, Faculty of Social Science, Srinakharinwirot University, Thailand
Ph.D. from the Graduate School of Science (2013)
2. Dr. Mohd Hafizal Mohd Isa 
Associate Professor, School of Housing, Building and Planning,
Universiti Sains Malaysia
Ph.D. from the Graduate School of Engineering (2013)
3. Ms. Selma Sumaya Awumbila 
Senior Legal Counsel, Ghana Grid Company Limited
Master from the Graduate School of International Cultural Studies (2017)
4. Dr. Anandeeta Gurung
Product Manager, EDOCODE Inc, Japan
Ph.D. from the Graduate School of Life Science (2019)
---
Moderator:
Ms. Yuka Sakamoto
Specially Appointed Associate Professor, Global Learning Center, Tohoku University
Date and Time:
Sendai: 8 pm – 9:30 pm, December 18
Beijing: 7 pm – 8:30 pm, December 18
London: 11 am – 12:30 pm, December 18
Venue:
Online (via Zoom)
Language:
English
Participants:
All past and present students, faculty members and researchers of the university are welcome.
Virtual Backgrounds:
The Global Engagement Division will share special virtual backgrounds for Zoom with those who registered for this event. Please register for this event, and get the special virtual backgrounds!
*The URL for the special backgrounds will be informed to those who have registered to participate when the event approaches.
Also, Tohoku University has created some other campus themed virtual backgrounds for Zoom. Please use them for your online class/meetings and of course this event! These pictures are for all who want to use them. Just click on the link and press the blue button to access the images. (Terms and conditions apply.)
https://www.bureau.tohoku.ac.jp/koho/book/notice.html
Terms and conditions:
https://www.tohoku.ac.jp/en/news/images/Conditions_of_Use.pdf
Registration form (in English):
Good News!
The deadline for registration has been extended. We are looking forward to your participation!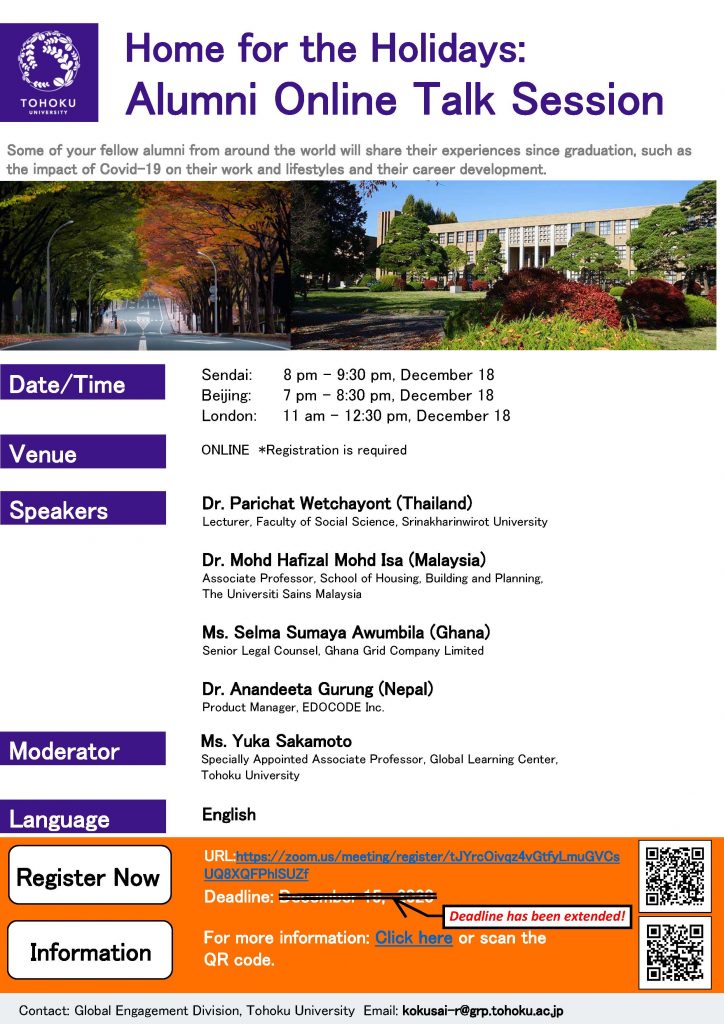 Click to check an Event Flyer (PDF)
Contact:
Global Engagement Division, General Affairs and Planning Department, Tohoku University
Tel.: 022-217-4844
Email: kokusai-r@grp.tohoku.ac.jp