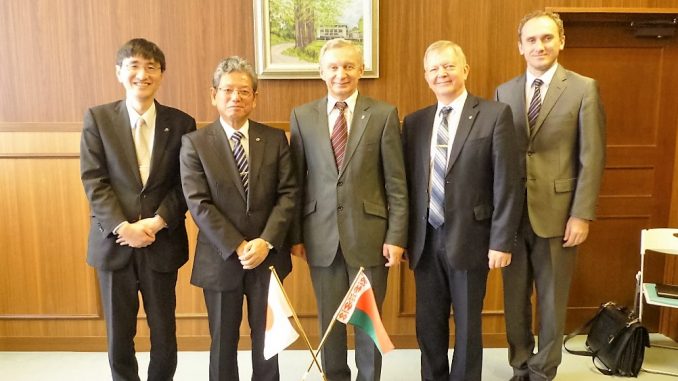 On October 21st 2014, His Excellency Ambassador Sergei Rakhmanov of the Republic of Belarus and Prof. Sergey V. Ablameyko, Rector of Belarusian State University paid a visit to Tohoku University.
During their courtesy call with President Satomi and Executive Vice President Ueki, they expressed their desire for further research, academic and student exchanges. The honored guests also shared their opinions on dispatching distinguished researchers to Belarusian State University and the creation of a cutting-edge collaborative research organization particularly in the fields of nanotechnology, rehabilitation and IT.
Following the discussion, the group visited the Laboratory for Nanoelectronics and Spintronics (Research Institute of Electrical Communication – Prof. Hideo Ono) as well as well as the Molecular Robotics Laboratory(School of Engineering – Prof. Kazuhiro Kosuge) where they were introduced to Tohoku University's latest research by international researchers.
Founded in 1921, Belarusian State University is Belarus' largest and oldest university with an impressive 17 departments and 20,000 students. In recent years they have seen rapid advancements in the field of nanotechnology, and we hope to cooperate with them in further advances in the future.