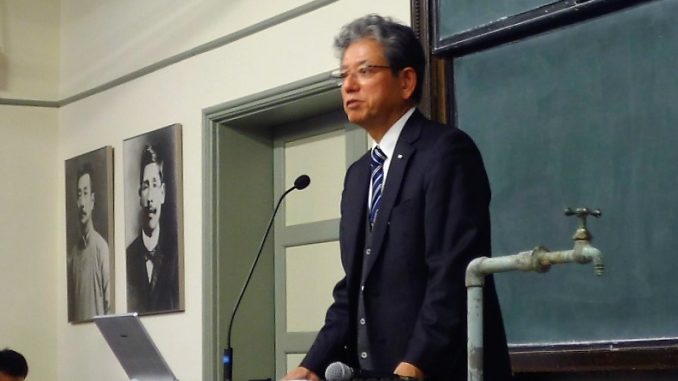 On October 21st 2014, the "110th Anniversary of Lu Xun studying at Tohoku University Workshop" was held in the Lecture Hall Where Lu Xun Studied.
The workshop was held in cooperation with the "110th Anniversary of Lu Xun Studying in Sendai Citizens Group" to commemorate the 110th anniversary of when Lu Xun, who would go on to become a literary master, studied at Sendai Medical College (which later became School of Medicine, Tohoku University).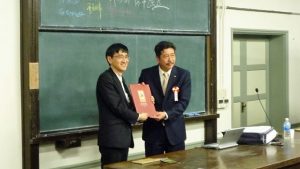 Amongst the approximate 90 attendees, the workshop was graced by the attendance of Lu Xun's grandchildren, Mr. Lingfei Zhou and Ms. Ning Zhou. Additionally, it was attended by Vice Director of the Shaoxing Lu Xun Museum, Ms. Lijun Zhang (representing Director Bin Chen), Consulate-General of the People's Republic of China in Niigata, Mr. Yuansong Zhang, Director of Student Support and Exchange Division a
t MEXT, Mr. Masami Watanabe, members of the Citizens Group, several department heads from Tohoku University, and university staff.
As the main host, President Satomi spoke of the close bonds between Lu Xun and one of his professors, Prof. Fujino, as well as the continuing bonds of friendship between Tohoku University and China, expressing hi
s hopes that these ties will one day give birth to the next Lu Xun.
Additionally, Associate Professor Hideaki Nagata (Tohoku University Archives) gave a presentation on Lu Xun's life while in Sendai, and Associate Executive Vice President Masahiro Yamaguchi and Mr. Yuansong Zhang spoke about the current status and future of educational exchanges between not just Tohoku University, but all of Japan and China.
The workshop concluded with Mr. Lingfei Zhou giving his heartfelt thanks for how much Tohoku University values its ties with Lu Xun, which was greeted with a hearty round of applause by the audience.