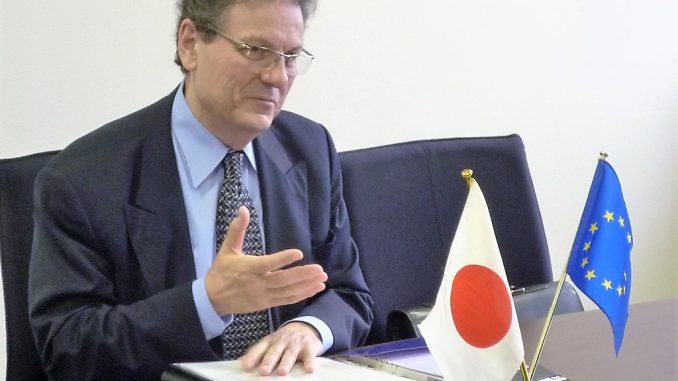 On December 17th 2014, Minister-Counsellor Dr. Leonidas Karapiperis, Head of Science and Technology Section, Delegation of the European Union to Japan, visited Tohoku University, where he met with Associate Executive Vice President for International Affairs, Masahiro Yamaguchi.
Dr. Karapiperis visited to explain "The EU Framework Programme for Research and Inovation" (also known as Horizon 2020), which combines the strengths of researchers and facilities from a total of 39 countries in the EU and beyond, with the aim of promoting cooperative international research. The program also supports dispatching and receiving young researchers from around the world, with the goal of generating international research exchange.
Following this, AEVP Yamaguchi gave a presentation regarding Tohoku University being selected for the Top Global University Project, and how the university plans to proceed in its globalization efforts.
Following the meeting, Dr. Karapiperis toured the Institute for Materials Research, the Advanced Institute for Materials Research (AIMR), the Office of Cooperative Research and Development, the Tohoku Forum for Creativity, and the Tohoku Medical Megabank Organization. Besides the tour, he gave a presentation to research administrators who belong to the Office of Research Promotion explaining the Horizon 2020 program, and had a meeting with Executive Vice President for Research, Sadayoshi Ito.