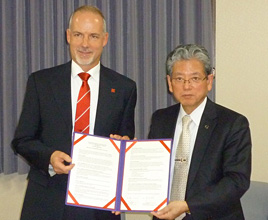 On February 17th 2015, President Susumu Satomi (Tohoku University) and President Georg Krausch (Johannes Gutenberg University of Mainz) concluded the Memorandum of a Program for Jointly-Supervised Ph.D. Students between their respective universities the first International Joint Graduate Program that will become the pillars of the prior to Tohoku University's Top Global University Project Kickoff Symposium.
Attending the signing ceremony from Johannes Gutenberg University of Mainz was Postdoctoral Fellow Frederick Casper. Also in attendance from Tohoku University was Associate Executive Vice President Masahiro Yamaguchi, Professor of the Graduate School of Science Yoshiro Hirayama, Professor of the Graduate School of Engineering Yasuo Ando and Director of the Student Exchange Division Takeshi Wagatsuma.
Prior to the ceremony, Postdoctoral Fellow Casper and Professor Ando introduced the latest case studies on Spintronics, and reported on the cutting edge collaborative research by Japan-Germany universities.
Tohoku University and Johannes Gutenberg University of Mainz concluded the Agreement on Academic Exchange in February 2012, and have conducted joint researches on Spintronics as well as exchanged students and young researchers actively. Moreover, Tohoku University had the privilege to be the only university in Japan selected for SpinNet, which was initiated at Johannes Gutenberg University of Mainz with the aim of conducting international cooperative education around the world.
It is hoped that this memorandum will lead to even more academic exchanges between the two universities, particularly in the field of Spintronics.