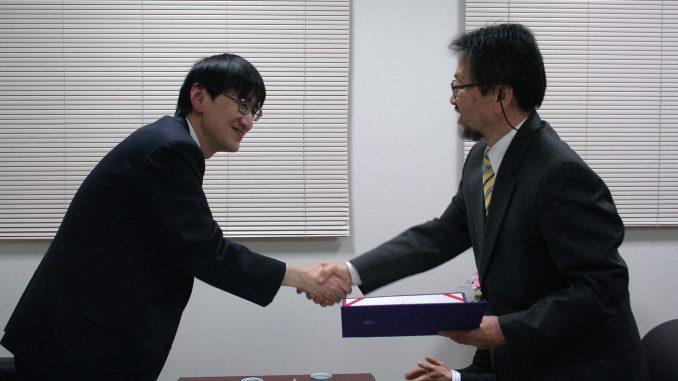 On February 17th 2015, Associate Chair of Department of Materials Science and Engineering at the University of Washington Fumio Ohuchi visited the Executive Vice President Toshiya Ueki, and the EVP Ueki signed an Agreement on Student Exchange between their respective universities prior to Tohoku University Top Global University Project Kickoff Symposium.
Present at the signing from University of Washington was the manager of the International Partnerships & Student Advising of International Programs & Exchanges at the Office of Global Affairs, Cameron Frisch. Present from Tohoku University was Dean Hiroshi Kanai and Professor Keisuke Asai of the Graduate School of Engineering, Professor of the Global Learning Center Yoshitaka Kasukabe and Director of the International Exchange Division, Yasushi Wagatsuma.
Tohoku University and University of Washington concluded an Agreement for Cultural, Educational and Scientific Cooperation in July 1996, and have conducted student and research exchanges in various fields. Through conclusion of this agreement, dispatch and acceptance of exchange students between the College of Engineering at the University of Washington, and the Graduate Schoool of Engineering at Tohoku University in the fields of Information Science, Environmental Studies and Biomedical Engineering.
It is hoped that this agreement will lead to even more academic and student exchanges, especially at the field of Engineering, and pioneer new innovation between the two universities.