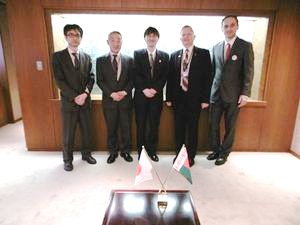 On March 15th, 2015, while in Sendai to attend the Third UN World Conference on Disaster Risk Reduction, His Excellency Ambassador Sergei K. Rakhmanov and Counsellor Sergei Terentyev paid a courtesy visit on Executive Vice President Toshiya Ueki and Professor of the Graduate School of Agricultural Science Akihiro Kijima.
The parties discussed the possibilities of academic exchanges, as well as cooperation in regional industry between the two countries.
There are hopes for cooperation in the fields of disaster recovery (with a focus on removal and decontamination of radioactive waste and soil), Law, Medicine, Education and Agriculture in the future.