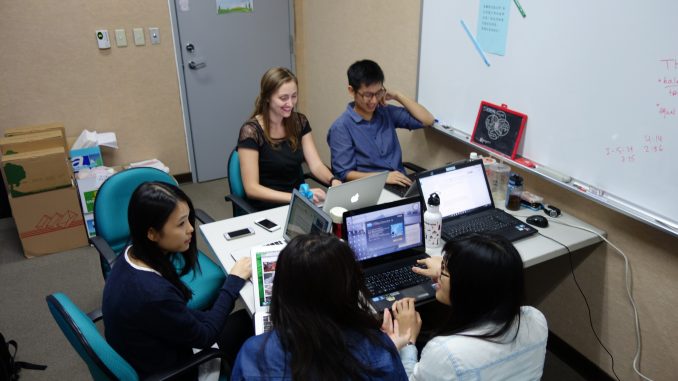 The APRU Global Health Program aims to leverage the global health education and research of Asia-Pacific universities to address global health issues through interaction with public policy and media. Since its launch in 2007, the program has covered a significant range of topics including emerging public health threats, ageing and chronic diseases, infectious diseases and health security issues.
As one of activities of the program, the third Global Health Case Competition for students of member universities will be held as detailed below.
Eligibility
Students enrolled at Tohoku University as of April 1, 2018. Students of all disciplines at all stages are welcome, including undergraduate and graduate students. Postdoctoral students and medical residents/interns are not eligible. Individuals holding faculty appointments also do not qualify.
Participants must contribute a video which shows all of them, and must try to attend the orientations scheduled below.
About
Case competitions are increasing popular around the world as a way for students to exercise critical thinking skills using a "real world" challenge. For this international, virtual competition, teams will receive a challenge relating to a pressing global health problem. Teams are given four weeks to prepare a 10-minute video in English proposing a realistic, well-designed, innovative solution to the challenge. Teams will save their videos on YouTube or Vimeo and submit the link via email for judging by an international panel of APRU Global Health Program members and other global expert judges.
Three videos will be chosen by an international panel of judges for the final round to be shown at the APRU GH annual workshop in Malaysia in October 2018. The winning team will be announced at the workshop and a prize of US$500 will be awarded.
Tohoku University will provide mentoring by faculties to a representative team and also travel expenses between Sendai and the conference venue, based on our rules and regulations, for finalists to attend the annual conference in Kuala Lumpur, Malaysia.
For details of this year's case competition, please visit APRU's website.
Timeline
| | |
| --- | --- |
| 2018.3.1 (THU) | Application deadline *Deadline is extended to 2018.3.14 (WED) |
| 2018. 3. 2 (FRI) | Form for screening sent out to applicants (in the case of there being many applicants) |
| 2018. 3. 9 (FRI) | Screening form deadline (in the case of there being many applicants) |
| 2018. 3.16 (FRI) | Result of applicant screening announced |
| Middle or end of March | Orientation for participants |
| 2018. 4. 1 (SUN) | Case challenge sent out via email at 11:59 Pacific Time |
| 2018.4.1-4.30 | Period for video creation |
| 2018. 4.30 (MON) | Final video submissions due by 11:59 Pacific Time |
| 2018. 7.15 (SUN) | Three finalist teams announced via email |
| Early October | Orientation for attendees of final competition |
| 2018.10.30 (TUE) | Final competition in Kuala Lumpur |
Apply Now
You can apply as an individual or as a team. The team must be comprised of 5 or 6 students. In the case of there being too many applicants, we will conduct a screening of applicants.(*Applications as a team was closed on March 1) If you would like to apply as both an individual and as part of a team, please select "Yes" in the form below. For the screening process, if needed, we will send out a selection form to each applicant directly after the application deadline on Mar. 14th.
The first case competition in 2016
The first case competition held in 2016 was a great success with finalists and the winning team showcasing their video at the annual Global Health Conference at UNSW Australia. Toward the challenge, "Preparing Pacific Rim Countries for Natural Disasters," a student team from Tohoku University showed a realistic, well-designed and innovative solution by using gamification for disaster education in Indonesia and won second prize.
See video submissions and case challenges in:
2016
2017
Video message from the finalists of the case competition in 2016

Contact
International Exchange Division
Tel:022-217-5578/6182
Email:kokusai-k

grp.tohoku.ac.jp