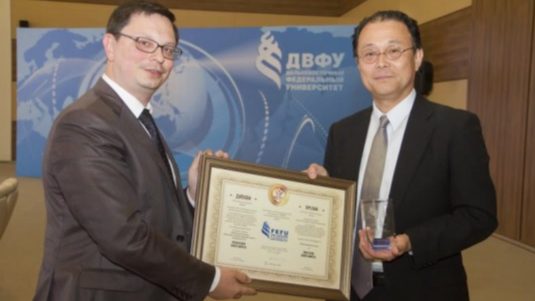 Professor Kaoru Maruta of the Innovative Energy Research Center at the Institute of Fluid Science, was awarded the title of Honorary Doctor of Far East Federal University (FEFU) on June 30, 2017. Professor Maruta received the award from the FEFU Interim President, Nikita Anisimov, at a meeting of the Academic Council. On the same day, a special lecture was held and Professor Maruta received a gift to commemorate the occasion.
FEFU's International Combustion and Energy Laboratory was founded at the School of Engineering, which was implemented under the Russian government's Mega-Grant Project between 2014 and 2016. Professor Maruta has received praise for his tremendous contribution to education and research into new combustion technologies at FEFU, and such collaborative research activities at the laboratory will continue in the future.
At Tohoku University, we are also focusing on developing our cooperative programs with Russia, with FEFU as a central part of the Inter-University Exchange Project.
Official Site of FEFU(English)
https://www.dvfu.ru/en/news/en_international_cooperation/world_renown_scientist_kaoru_maruta_became_fefu_honorary_doctor/