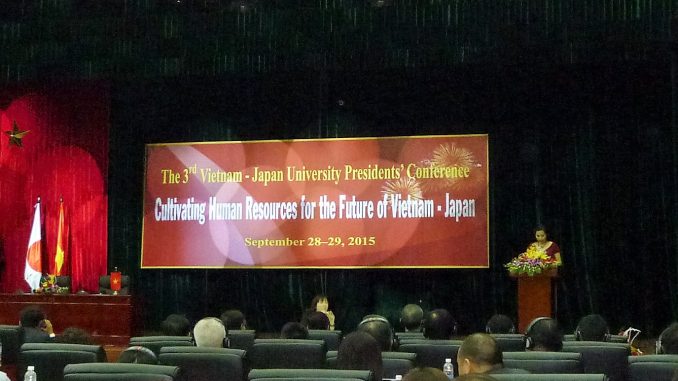 On September 28th and 29th, 2015, EVP Toshiya Ueki attended the 3rd Vietnam-Japan University Presidents' Conference, held in Danang, Vietnam on the theme of "Cultivating Human Resources for the Future of Vietnam and Japan".
The conference began on the 28th with opening addresses from the organizer on the Vietnamese side, President Tran Van Nam of the University of Danang, and Japanese side organizer, President Juichi Yamagiwa of Kyoto University. Following this, Prof. Dr. Bui Van Ga, Deputy-Minister, Ministry of Education and Training, Mr. Jun Yanagi, Minister, Japanese Embassy in Vietnam, and Mr. Hiroki Taura, Director for International Analysis, Higher Education Bureau, Ministry of Education, Culture, Sports, Science and Technology, Japan also gave welcoming addresses.
After the opening formalities, Dr. Junichi Mori, Vice-President for International Relations, Kyoto University and Dr. Tran Anh Tuan, Deputy Director General, Higher Education Department, Ministry of Education and Training, Vietnam gave keynote speeches on higher-education and research collaboration between Vietnam and Japan.
In the afternoon, there were parallel sessions on the themes of "Educational Cooperation and Quality Assurance" and "Research Collaboration and Utilizing Research Outcomes for the Benefit of Society", with EVP Ueki serving as the moderator and MC of the former session. At the parallel session, officials from Tohoku University participated in the introduction and discussion of exchange plans.
Following the plenary discussion on the 29th, the participating universities adopted a joint statement regarding strengthening academic exchange and fostering human resources between the two countries.