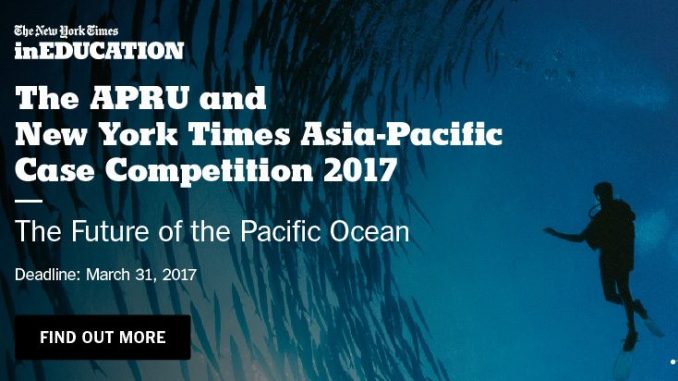 Submission deadline has been extended to April 30!!
WEB
ELIGIBILITY
The team must be comprised of currently enrolled Asia-Pacific university students (as of May 2017). Students of all disciplines
and stages in their studies are welcome including undergraduate and postgraduate students.
SUBMISSION DEADLINE
31 March 2017 (Fri)
*Submission deadline has been extended to Sunday, 30 April.
TASK
Regulations & Guidelines including the designated article(PDF)
TOPIC:
The Future of The Pacific Ocean
TASK:
You are a policy adviser – (s)he may be at national or city level – to a respected political
leader who can influence public opinion and change policy. In 800 words, provide her/him
with a policy brief on climate change and the future of the Pacific Ocean, which will be the
'wake-up call' described in the article. Include specific recommendations for your
geographical location, supported by evidence, on what should be done and by whom.
QUESTIONS for DISCUSSION:
How could extreme weather conditions affect natural or biological ecosystems, economic conditions,
and governance structure on a society? What could be done to mitigate any of the negative effects,
both on an international collaboration aspect and a national policy level? What might be the key
parameters that a government need to consider before implementing any remedies?
ARTICLE:
The Pacific Ocean Becomes a Caldron, By JOHN SCHWARTZ, NOV. 2, 2015
SUBMISSION
FORMAT:
• Original photos
• Length: Maximum 800 words, single spaced
• Save file name in the following format: Names_Universityname_APRUNYT2017
• Submit your work as a Word (.doc, .docx) or PDF file
IMAGES:
Maximum two images may be included with the submission (JPEG or PNG format).
SUBMISSION:
• Original writing piece
• Individual OR maximum 4 teammates in a group
• Please provide name, email, university name and Student ID
SUBMISSION EMAIL:
aprunyt_2017

apru.org
To let us know about your enyry, please send cc. to kokusai-k

grp.tohoku.ac.jp on your submission.
JUDGING CRITERIA
• Accuracy (20%): on the fact/data used or cited to support the arguments
• Relevance (30%): on the use of theories, concepts, external data or research applied to support the arguments
• Clarity (20%): of the presentation and organization of ideas, reasons, and actions
• Originality (30%): of actions, solutions, and decisions proposed
PRIZE
【CHAMPION】
• Article will be published in the International Edition of the NYT
• Vouchers with a total value of US$500
• NYT Trophy + Certificate
【RUNNER-UP】
• Article will be published in the International Edition of the NYT
• Vouchers with a total value of US$300
• NYT Trophy + Certificate
OTHERS
FREE NYTIMES ACCESS FOR PARTICIPANTS
Free 4-week subscription to NYTimes.com, please request at angel.leung
nytimes.com
Contact
International Exchange Division, Tohoku University
TEL:022-217-5578/6182
Email:kokusai-k

grp.tohoku.ac.jp