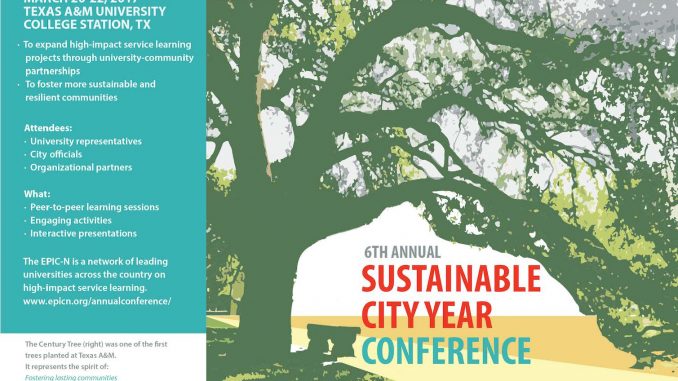 The 6th Annual EPIC-N Conference and Workshop will be held as below.
Period
 March 20 to 22, 2017
Venue
 Texas A&M University, USA
Attendees
 University representatives, city officials, and organizational partners who are interested in adopting, adapting, or enhancing the EPIC Framework
Costs
Registration Fees: 495 USD (for registration BEFORE FEB 20) 595USD (for registration AFTER FEB 20)
 Attendees are responsible for his/her own registration fee and traveling expenses.
*A select number of scholarships will be awarded for city partner representatives to attend this year's conference.
Registration
 http://www.epicn.org/annualconference/
Registration Deadline
 Monday, March 6, 2017)
Schedule
  MARCH 19 | 6:00 pm Welcome Reception, CAVALRY COURT HOTEL
  MARCH 20 | Full day sessions
  MARCH 21 | Full day sessions
  MARCH 22 | 8 am-12 pm, EPIC-N Leadership Workshop
WEB
See APRU's website.