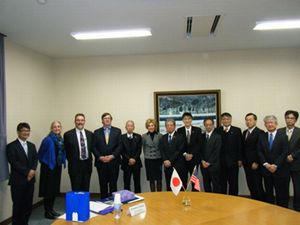 On November 12, 2015, Case Western Reserve University (CWRU) President Barbara R. Snyder and her party visited President Susumu Satomi and Executive Vice President Toshiya Ueki to discuss promoting further exchanges between the two universities.
CWRU and Tohoku University concluded a Memorandum of Understanding on July 29th, 2015, and have founded a joint degree program in the field of Data Science as part of Tohoku University's Top Global University Project. At the meeting, Professor Takeshi Tokuyama, Dean of the Graduate School of Information Sciences presented on the connections and cooperative efforts in Data Science between the two universities.
Prior to the meeting, the party visited the Tohoku Medical Megabank Organization, where they learned about the application of Big Data to medical science, and exchanged opinions on Tohoku University's cutting edge research.