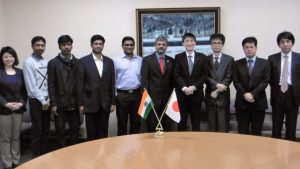 On November 18th, 2015, Director Uday B. Desai of the Indian Institute of Technology Hyderabad and several JICA staff members visited Tohoku University. During their visit, they met with Executive Vice President Toshiya Ueki, where Director Desai expressed his desire for further academic exchanges between IITH and Tohoku University in the engineering field. Also in attendance were two IITH alumni who are currently studying at Tohoku University as PhD students as part of the JICA Friendship Project.
Following the meeting, Director Desai and his party visited Associate Professor Kentaro Totsu at the Micro System Integration Center (μSIC), where they listened to an explanation of the Center's activities before taking a tour of the cleanroom.
Additionally, the group also visited the Center for Integrated Nanotechnology Support (CINTS), where Center Chief Toyohiko Konno gave the visitors a brief overview of the center's activities.
Tohoku University is a participating member of a consortium that offers support to IITH, and we have great expectations for further exchanges benefited by Director Desai's recent visit.
※Tohoku University is a participating member of IITH Consortium of Japan, a binational effort founded in 2009 to support IITH make developments in a variety of engineering fields to become a leading educational institution as a symbol of Japan-India cooperation, which is supported by industry, government and academia, and to encourage the exchanges of people and academic cooperation by adopting Japanese-style management and engineering education into India.