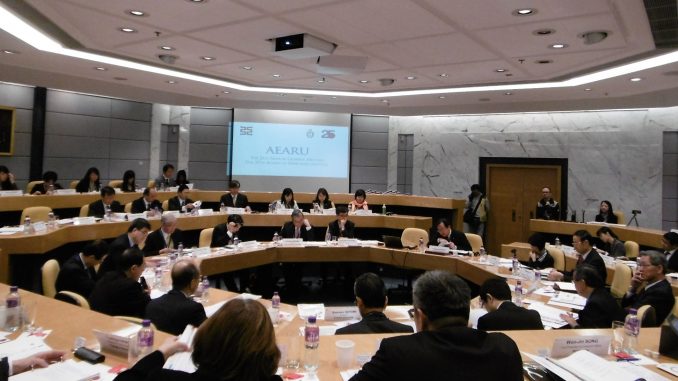 On Saturday, December 5th, 2015, President Susumu Satomi and Executive Vice President Toshiya Ueki attended AEARU's 37th Board of Directors Meeting and 21st Annual General Meeting held at Hong Kong University of Science and Technology.
At the meetings, 55 representatives from member universities in Japan, China, South Korea, Taiwan and Hong Kong were in attendance to report on activities in 2015, and discuss planned activities in 2016.
At the Board of Directors Meeting, it was confirmed that for a period of two years from January 2016, the president of Seoul National University will assume the role of AEARU Chairperson, the president of Tsukuba University will assume the role of AEARU Vice-Chairperson, and that Tokyo Institute of Technology will succeed Tohoku University as a member of the Board of Directors. Following this, at the General Meeting, member universities gave presentations on their education and research initiatives. During this meeting, President Satomi gave a presentation on "Macroscopic View of Future Research Topics Suitable for AEARU Universities", a research plan that incorporates elements of Tohoku University's Global Initiative. Additionally, it was officially confirmed that Tohoku University will host an AEARU workshop on the topic of Computer Science and Data Science in autumn 2016.
AEARU plans to hold their next Board of Director's meeting at National Tsing Hua University, Taiwan in the spring of 2016, and the autumn General Meeting at Seoul National University in South Korea.