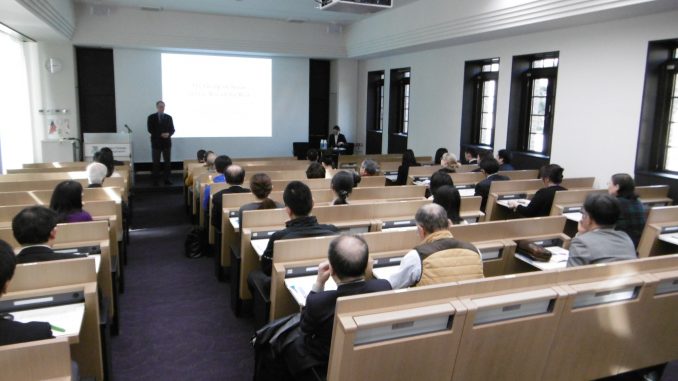 On January 27th, 2016, Professor Casimir Yost (Senior Fellow, Institute for the Study of Diplomacy) visited TOHOKU ELECTRON House of Creativity to deliver a lecture entitled "The Group of Seven and the Rise of the Rest", which was organized by the United States Consulate General in Sapporo and Tohoku University.
Sendai will host the G7 Finance Ministers and Central Bank Governors Meeting on May 20th and 21th this year, and people from both inside and outside of Miyagi Prefecture attended to hear this lecture, which covered topics ranging from the need for the G7's leadership to tackle the diverse and dangerous challenges that the world faces, the economic and environmental impact that current trends in demographic change will pose globally and current and upcoming issues that will test the leaders of the G7 nations.
Following his speech, Professor Yost took several questions from the audience, expanding all of the participant's understanding of the topics that will be discussed at both the G7 Finance Ministers and Central Bank Governors Meeting, and the 42nd G7 summit, which will be held in Mie prefecture on May 26th and 27th.