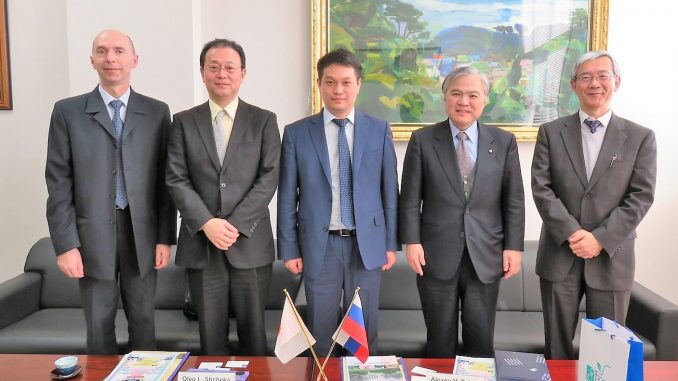 On February 4th, 2016, Far Eastern Federal University's Vice President for Research & Innovations Alexey V. Tskhe and Deputy Vice President Oleg L. Shcheka paid a courtesy visit to Tohoku University Executive Vice President Sadayoshi Ito. Deputy Director Toshiyuki Takagi of the Institute of Fluid Science and Professor Kaoru Maruta, Russian Government MegaGrant Project Leader at Far Eastern Federal University were also at this meeting, where they discussed developments in strengthening future research connections between the two institutions.
During their visit they also toured the Institute of Fluid Science, where Deputy Director Takagi gave them an explanation of his latest research. Following this, with Professor Maruta coordinating, the party toured various locations throughout the facility.
Vice President Tskhe expressed strong interest in the research he was shown, as well as his hopes for Professor Maruta's joint laboratory to continue to serve as the core of collaborative research.