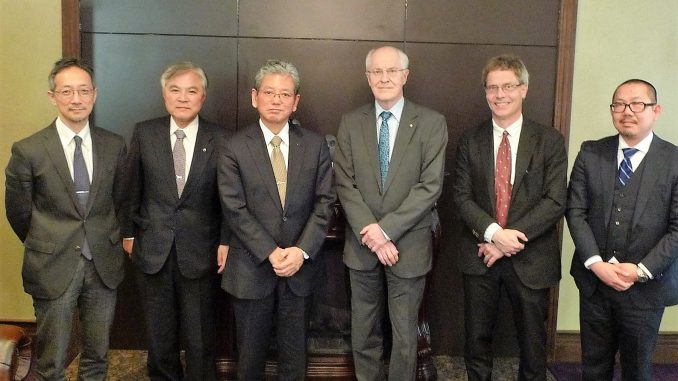 As part of a fact-finding mission on developments in Japanese research institutions and the current status and future vision of scientific research, on Thursday, March 3rd, 2016, Professor Gunnar Öquist, former Secretary General of the Royal Swedish Academy of Sciences and Professor Emeritus at Umea University, as well as Professor Mats Benner of Lund University paid a visit on Tohoku University President Susumu Satomi.
Executive Vice President (for Research) Sadayoshi Ito, Associate Executive Vice President (for International Affairs) Masahiro Yamaguchi and Associate Professor Hirofumi Seike (URA Center) were also in attendance at the meeting, where they discussed the university's approach to changes in research governance, science and technology, and scientific policy. In addition, the university's globalization strategies were also discussed during a presentation about Tohoku University's initiatives.
Following the discussion with President Satomi, Professor Öquist and Professor Benner also visited Professor Motoko Kotani, Director of AIMR, where they discussed the successes and future direction of the university's WPI Project.
* The Royal Swedish Academy of Sciences is responsible for the selection of the Nobel Laureates in Physics, Chemistry, and Economics