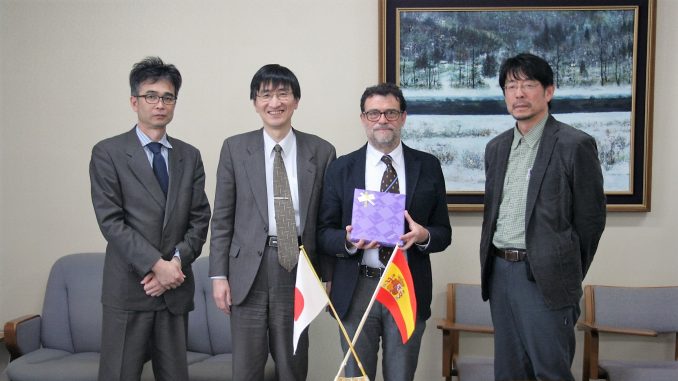 On April 18th 2016, Dr. José Abel Flores Villarejo, Director of the Spanish-Japanese Cultural Center at the University of Salamanca (Spain) visited Tohoku University Executive Vice President (for General affairs and International Relations) Toshiya Ueki.
Professor Mitsuhiro Shigaki (Graduate School of International Cultural Studies) and Mr. Yasushi Wagatsuma (Direrctor, International Exchange Division) were also in attendance, and they discussed future academic exchanges and collaborative research between the institutions.
Following their discussion, Dr. Flores visited the Tohoku Medical Megabank Organization, where he heard about their genome research (a field that Dr. Flores hopes to pursue academic exchanges in) from Executive Director Masayuki Yamamoto.
* About the University of Salamanca
Founded in 1218, it is one of the world's oldest universities. In 2018, they will celebrate their 800th anniversary.
In addition to Japanese language classes, the Spanish-Japanese Cultural Center also carries out activities aimed at deepening mutual understanding between Spain and Japan.