From 10 to 11 May, 2013, the AEARU (Association of East Asian Research Universities) 32nd Board of Directors meeting was held at Tohoku University. President Satomi and National Tsing Hua University (Taiwan) President Chen (AEARU Chairperson), Osaka University President Hirano, Nanjing University President Chen, Peking University Assistant President Li, Hong Kong University of Science and Technology Associate Provost and Dean of Students Tam and Seoul National University Executive Vice President Im and other distinguished guests from the board member universities participated. At the meeting, concrete projects and undertakings on the invigoration of joint research activities, the creation of a comprehensive vision of education and active policies taking a new approach in terms of emphasizing the uniqueness of the AEARU consortium and the regional characteristics of the Region of East Asia, were lively discussed and many views were exchanged among the participants.
After the meeting, a campus tour led the guests through the facilities of the Tohoku University Hospital, the Advanced Institute of Materials Research (AIMR) and the Lu Xun Lecture Hall. The Campus Tour was followed by the AEARU 2nd Distinguished Lecture Series that was held at the Sakura Hall located at the Tohoku University Katahira Campus, where Professor Shangjr Gwo from the National Tsing Hua University department of physics gave a lecture on "Diffraction-Unlimited Plasmonic Metamaterials and Nanolasers", Professor Mu Wang of Nanjing University department of physics on "Making Metals Transparant for White Light" and Professor Fumihiko Imamura from the Tohoku University International Research Institute of Disaster Science (IRIDeS) on"The Lessons from 2011 East Japan Earthquake and Tsunami, and a New Research for Disaster Reduction". On May 11 an optional tour (visit of tsunami affected areas) was conducted under the guidance of researchers from IRIDeS at the sites of Onagawa, Ishinomaki, Sendai Arahama, Natori Yuriage, Sendai Airport and Iwanuma Thousand Years Hope Hill.
The next, the 33rd Board of Directors Meeting as well as the 19th Annual General Meeting are scheduled for this winter at National Tsing Hua University (Taiwan). Through the contribution to various AEARU activities, the strengthening of the university network within the region of East Asia and the promotion of exchange activities are expected in the future.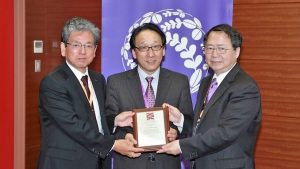 ※AEARU(The Association of East Asian Research Universities)
It is a regional university network founded in 1996. AEARU contributes to the development of higher education and research and also to the opening up of a new era leading to cultural, economic and social progress in the East Asia region. AEARU is now composed of 17 universities from China (6), Japan (6), Korea (3), and Taiwan (2). Tohoku University joined AEARU in 1998 and serves as a member of the Board of Directors from January 2012 for a term of 2 years having actively engaged in its activities.