On August 18, Dr. Masaoki Kawasumi, a photobiology and skin cancer researcher at the University of Washington, gave a special lecture on Tohoku University's Seiryo campus. The lecture was entitled "Deciphering UV-induced DNA Damage Response and Epigenetic Abnormalities to Prevent and Treat Skin Cancer".
Dr. Kawasumi presented his research on topics such as how caffeine intake is associated with a decreased risk of developing UV-induced skin cancer. Researchers and students alike gathered for the special lecture and actively participated in a productive Q&A session.
Organized by the Tohoku Medical Society, the lecture was held as part of the activities of the UW-TU: Academic Open Space (AOS). The Memorandum of Understanding for the AOS was renewed for a second term by Tohoku University and the University of Washington in April 2022.
The event is expected to further advance collaboration between Tohoku University and the University of Washington within the medical field.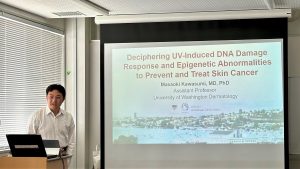 Dr. Kawasumi pictured giving the special lecture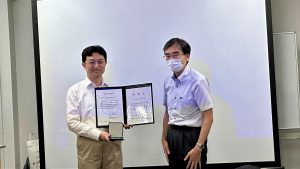 Dr. Kawasumi is presented with a certificate of appreciation and a medal by the Tohoku Medical Society