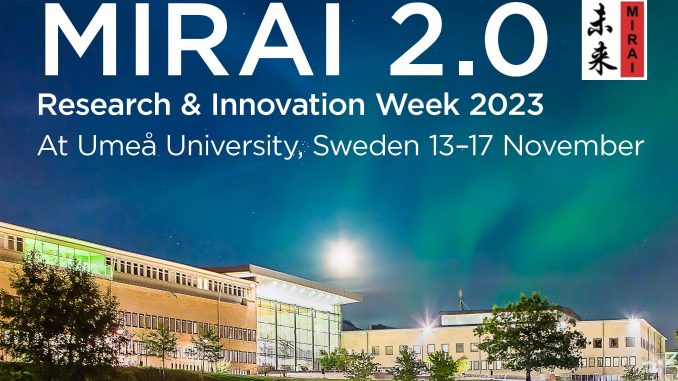 The next Japan-Sweden R&I week "Creating resilient and sustainable societies" will take place in Sweden on November 13-17, 2023 hosted by Umeå University. This week is a unique opportunity to broaden your network and strengthen collaboration between Sweden and Japan in research, innovation and education.
We welcome workshop proposals and presentations within Ageing, Materials Science, Sustainability, AI, Innovation and Entrepreneurship.
Submit your proposal by May 31.
For more details, please refer to the attachment and the following website and apply directly.
■Event: MIRAI 2.0 Research and Innovation Week 2023
■Theme of the Event: "Creating resilient and sustainable societies"
■Venue: Umeå University, Sweden (On-site)
■ Date: November 13-17, 2023
■Call for Proposals: The thematic focus of the workshops and presentations should be within the following scientific areas.
・Ageing
・Materials Science
・Sustainability
・AI
・Innovation and Entrepreneurship
■Applicants: Researchers, teachers and PhD students from MIRAI 2.0 universities.
■MIRAI 2.0 Website (R&I week 2023): https://mirai2023.se/
■Details and Application Form: https://mirai2023.se/workshop-proposals/
■Submission deadline: May 31, 2023
■Notification of selected workshops and presentations: June 27, 2023
■Call for workshop proposals
■Call for presentations
■Contact:
Global Engagement Division, Tohoku University
Email: kokusai-k@grp.tohoku.ac.jp