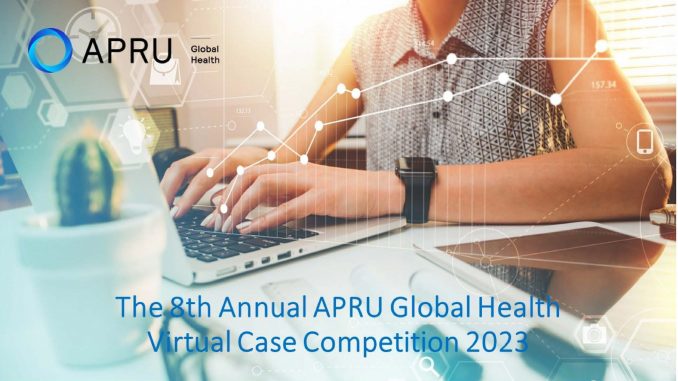 APRU, an international university consortium of which Tohoku University is a member, will hold an international contest for teams of 3-6 students to create a 10-minute video in English showing solutions to global health issues.
Three videos will be chosen by an international panel of judges for the final round, which will be held as part of an APRU Global Health conference in October 2023. The winning team will be announced at the conference and a prize of US$1,000 will be awarded.
If you are interested in applying, please check the official website for more details and how to participate, and apply directly.
【TIMELINE】
March 10 – Case challenge sent out via email at 11:59am Pacific Time
April 21 – Deadline to register teams
June 2 – Final video submissions due by 11:59pm Pacific Time
August 10 – Three finalist teams announced via email
October 27– Final judging of competition held during an APRU Global Health conference
【UNIVERSITY REQUIREMENTS】
・A representative from each team must register by April 21, 2023 at 11:59pm Pacific Time through our online registration system. There is no cost to participate.
・All team members must come from the same university. There is no maximum number of teams per each university.
・All teams must come from APRU member universities. Membership in APRU is required.
・The teams must be comprised of 3-6 students. Changes can be made to the team members after registration. But an email must be sent to Dr. Withers at mwithers@usc.edu informing about the changes prior to the competition deadline.
・The solution to the challenge must be student-driven. Although we encourage that students draw on faculty and outside mentorship and support, it should not be the work/research output of a faculty member.
【ELIGIBILITY】
・The team must be comprised of currently enrolled university students (as of April, 2023). Students of all disciplines and stages in their training are welcome including undergraduate, graduate and medical students.
・Student are allowed to be part of more than one team.
・Postdoctoral students and medical residents/interns are not eligible. Individuals holding faculty appointments also do not qualify.
【THE PRIZE】
・The winning team will be announced online in October 2023.
・A prize of US$1,000 will be awarded to the winning team.
・All students who participate will receive a certificate of participation via email.
【SUBMISSION INSTRUCTIONS】
For competing teams, please submit the following materials by email by June 2 at 11:59pm Pacific Time to mwithers@usc.edu.
・Provide a link to your video on YouTube, Vimeo, Bilibili or similar site.
・Video MUST be no more than 10 mins or it will not be eligible.
・At the beginning or end of the video, please provide a slide with full name, discipline of study, affiliated department and institution, and academic status (e.g. undergraduate, graduate, medical, etc.) for each team member. Please make sure to clearly identify your team name.
・PowerPoint slides, animations, or other audiovisuals should be used in conjunction with the oral presentation.
・All team members should appear on the video at some point and should actively participate in the development of the proposal. Everyone on the team needs to physically show at some point in the presentation. So, they can appear talking next to a set of slides like a presentation or talking with another person, etc.
・All teams automatically grant permission for APRU to screen their videos at the workshop and to post their videos on our website for an unlimited time.
【Details】
Official Website: https://apru.org/event/the-8th-annual-apru-global-health-virtual-case-competition-2023/
【Contact】
Global Engagement Division, Tohoku University
E-mail : kokusai-k@grp.tohoku.ac.jp
Tel : 022-215-5578