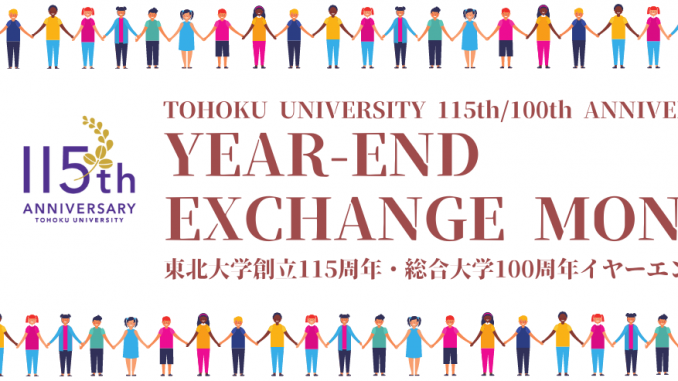 Together with Tohoku University International Alumni Awards Ceremony on December 7, 'Tohoku University Exchange Month' has been launched in alignment with the 115th anniversary's goal to strengthen Tohoku University's global network. Therefore, the month of December is dedicated to promoting exchange between international alumni and current international students.
During the final month of the university's 115th anniversary year, the Tohoku University Fund will partially fund gatherings, exchanges, and networking events aimed at bringing together current international students, alumni, faculty and staff from the same country, region, academic program, etc.
If you are interested in planning such an event, don't let this great opportunity pass you by! After confirming that your event will follow the conditions below, please submit the application form for a subsidy right away!
Before the year comes to a close, let's bring the Tohoku University community even closer together with opportunities to network and connect across generations!
Subsidy Details
The subsidy covers 3,000 yen per person for up to 10 attendees, as the subsidy limit is 30,000 yen. For events with more than 10 attendees, the maximum subsidy amount is still 30,000 yen.
Application Period
Day, November 28, 2022 (Mon) – Friday, December 19, 2022 (Mon)
Application Form
https://forms.gle/71u3VNa7YFgKmkEAA
Official Dates:
Tuesday, December 1(Thu)– Wednesday, December 28 (Wed)
CLICK HERE FOR TERMS & CONDITIONS
---
Global Relations Section, Global Engagement Division
Tohoku University
2-1-1, Katahira, Aoba-ku, Sendai,
Miyagi, 980-8577, JAPAN
Phone: +81-22-217-4844
Fax: +81-22-217-4846