Tohoku University Botanical Gardens Overview
This botanical garden was founded in 1958 by Tohoku University for research and education purposes. With the concept of a "natural-habitat botanical garden," the Natural Monument Aobayama is maintained and open to the public. It spans roughly two thirds of our area. A number of wild plants collected in Japan are on display in the Rock Garden and the Marsh Garden, along with indoor exhibitions about nature and the botany of Aobayama. As a research facility, we work on maintenance of ex-situ strains and collection of herbarium specimens from the plants. Materials we own have been utilized by researchers from various fields. Another activity we are actively engaged is the conservation and research of endangered plants. As a National Historic Site, ruins are scattered all over the garden and the garden constitutes a part of the "Site of Sendai Castle."
Garden Observation Paths and Vegetation Map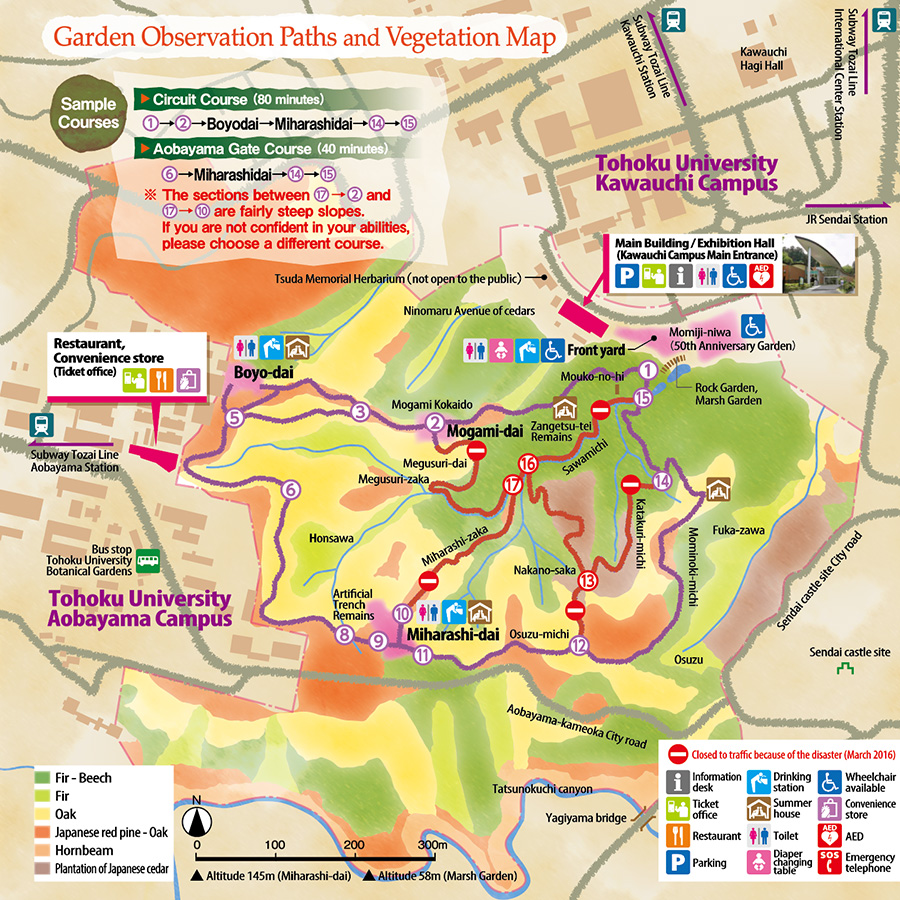 Main Building / Exhibition Hall (Kawauchi Campus Main Entrance)
By the Sendai Subway Tozai Line
Get off at the "International Center" (T04) and walk 12 minutes from the "West 1" exit. Alternatively, get off at "Kawauchi" (T03) and walk 12 minutes from the "South 2" exit.
By the Sendai Sightseeing City Loop Bus "Loople Sendai"
Get on the Bus at "① Sendai Station" from bus stop #16, get off at "⑤ Sendai City Museum / Sendai International Center" and walk 12 minutes from there.
By Car
Follow the Aoba-dori Avenue from central Sendai heading west, cross the Hirosegawa River and go straight unitil you reach a rotary. Take the first exit to the left. The free car park has 28 spots.
Aobayama Botanical Gardens Gate (Aobayama Campus Entrance)
By the Sendai Sightseeing City Loop Bus "Loople Sendai"
Get on the Bus at "① Sendai Station" from bus stop #16, get off at "⑦Tohoku University Botanical Gardens" and walk 3 minutes. When returning to Sendai station, access via the Sendai Subway Tozai Line's "Aobayama Station (T02)" is the most convenient option. You can use the Sendai City Bus, the Loople Sendai or the Aobayama Shuttle Bus to get to the subway station.
Admission Information
Open Season
from Spring Equinox Day until November 30
Hours
9:00 – 17:00 (Admission until 16:00)
Closed on Mondays (Open on a public holiday Monday and it is instead closed the day after)
fares
Individuals Adult : 230 yen
Clildren (Elementary / Junior High School):110 yen
Groups(30 people and above)Adult: 170 yen Children: 90 yen
Year Pass Adult: 1000yen Children: 500yen
* When entering through the Aobayama Botanical Gardens Gate, please buy your ticket from the adjacent "Daily Yamazaki."
* Group tickets and Year Passes are available exclusively at the Main Entrance.
* Readmission is possible for the same day and same person by presenting the receipt of the purchased ticket.
* Students and staff members of Tohoku University are requested to present their ID.
For Visitors
Aobayama, the botanical garden, is designated as a Natural Monument. To preserve our valuable nature and ensure a pleasant stay in the garden, please follow the rules below.
Treat plants and animals gently. Taking or damaging animals, plants and rocks is prohibited.
Be aware of mountain fires.
As it affects the behaviors of wild animals and causes inconveniences for other visitors, please refrain from the following

Bringing your pet into the garden
Playing baseball or other sports
Playing an instrument or shouting
Bringing alcohol into the garden
Littering
Smoking

Follow the rules displayed in the gardens and the instructions of our staff members.
Safety Information for Visitors
As the botanical garden is kept close to the natural state of a mountain forest, the trails are uneven mountain paths. Please enter with clothes and footwear suitable for active walking.
There are stairs and slopes. Please choose a course suited to your physique.
Do not approach cliffs or hang over the safety rail.
Watch out for falling branchers or even entiretrees, especially during strong wind.
Watch out for dangerous insects, such as hornets. When they come near you, leave quietly without stimulating them.
Some spots are slippery. Take special care during wet conditions.
Beware of heat strokes on hot days. Please be sure to stay hydrated and rest sufficiently in shady places.