Policy
Research is a voluntary intellectual activity that tackles difficult unanswered questions but we rise to the challenge.
We will carry out world-class research, with the focus on the diagnosis and treatment of lymph node metastasis.
I believe that as researchers we find fulfillment when research results obtained through self-help efforts are deservedly evaluated and valued by the worldwide community of scientists.
My team works actively on their own research themes and will publish their results in international journals.
The laboratory is a small social group and laboratory members are already members of society.
Our laboratory starts with a morning meeting and then conducts research activities according to appropriate schedules.
I believe that researchers, who can discipline themselves, adjust their life rhythm and who have inquiring minds, can obtain world-class research results.
Ideal Student Profile
Students who want to do the most advanced cancer research in the world:
World-leading research on lymph node metastasis
Our laboratory environment is at the top level in the world for conducting research on lymph node metastasis.
Depending on your efforts, you can connect the results of your research to the diagnosis and treatment of actual cancer patients.
Students who want to play an active role globally in the future:
International students: 1 in 5 (20%)
Exchanges with overseas universities are thriving and students are actively accepted.
Seminars are conducted in English, so even if you are not good at English, you will naturally improve your English and gain a global perspective through improved communication.
Students who want to improve their presentation skills
Number of conference presentations per student (average 8)
There are many opportunities to present your data at domestic and international conferences.
Since we practice many times before the presentation, your skills will greatly improve.
It is also attractive to go to various places in Japan and abroad to attend academic conferences.
Students who want to spend their research life at their own pace:
Our laboratory starts from 8:50
There will be a meeting every morning from 8:50; all members share the progress of their experiments and contact information.
After that, you can proceed with your schedule according to your own experiment plan.
Students aiming for the President's Award:
Presidential award rate, etc is 2 in 5 (40%)
3 Presidential Awards, 4 Graduate School of Biomedical Engineering Awards, 3 Excellent Electrical and Information Student Awards from 27 graduates.
Amazing award rate! If you earnestly do your best, it is not difficult to have a very successful graduate school life.
Students who want to show their abilities in prominent companies in the future:
Employment location of graduates
Medical device manufacturers: 12 (44%)
Research institutions such as universities: 7 (26%)
Electrical communication manufacturers: 4 (15%)
Other: 4 (15%)
Students who have taken part in the world's most advanced research and got over the difficulties that have confronted them now play active roles in well-known companies in various fields.
Lab activity
Activities in the laboratory
Morning meeting
every day
The main purpose is that each person is actively involved in laboratory activities as a laboratory member.
Every morning from 8:50, we have a meeting where all members attend. Information is shared including individual research plans and issues and consultations related to laboratory management.
Individual meeting
once a month
We have a personal meeting with all members once a month. Each person will understand the background and purpose of their research subjects and proceed with them. All members thoroughly discuss their experimental methods, results and future research plans.
Journal club
once a week
Every Monday at 15:30, we have a journal club in a rotating system. The person in charge of the presentation chooses a paper useful for the research they are working on and introduces it to the members. In addition to providing useful information for research, the students will be able to read and explain the papers properly and the listeners will be able to actively ask questions and discuss them.
Progress report
once a month
A progress report meeting is held once a month from 13:00 on the last week of Friday. By presenting experimental methods and data together, you can deepen your understanding of your research and obtain advice and solutions.
Seminar announcement
once a month
Once a month, from the last week on Monday at 16:00, members will present their research results for several months in English. Each member will hand out an abstract in an A4 format. The number of people is 2 to 3 times a year and the presentation time is about 30 minutes.
Evaluation of laboratory notebooks
once a month
The laboratory notes provide very important material evidence for the experimenter, showing what experiments were performed and what results were obtained. At the end of the month, Professor Kodama will check each person's laboratory notebook and instruct them on how to write a correct notebook if necessary.
Education seminars
3 to 5 times a year
There is almost no opportunity to learn about research in the laboratory at university lectures. In order to make up for this lack of knowledge, teaching seminars provide lectures on the latest research content by experts in various fields.
Announcement of domestic and international conferences
2-3 times a year
In order to present your research results in words of your own, you need to learn the ability to create slides and to master presentation skills. Before the presentation, students are required to practice many times. A global perspective is required both in Japan and overseas. Presentations at conferences are the first step towards a global perspective.
Alumni voice
Voice of alumni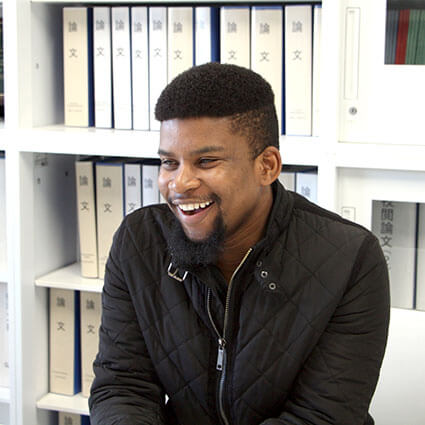 THABANG LEBEPE
Short-term Visiting Trainee, University of Johannesburg, South Africa
Let me start first by expressing my gratitude to all Kodama lab group members from students, Ms. Akimoto, Mori sensei to Kodama sensei for a good hospitality during my stay in Japan. I have learned a lot in Kodama lab from cell recovery, passaging, cell counting, culturing and MTT assay. In addition to in vitro cytotoxicity assay, I have learned how to use laser for photothermal application in cells and how-to analysis data using statistical software. I have also learned to draw diagrams properly with correct adjustments. I have enjoyed my stay in Japan, however, time was little, I was unable to finish all my biological applications and also, I need to come back to South Africa to synthesis more materials for the application. To any researcher who wants to work in Kodama lab. I stand by my word to assure you that Kodama Lab is a world class biological lab with both the in vitro and in vivo applications in different cancer therapeutic. Both the staff and students are welcoming and willing to assist in completing your project, during you time in their lab.
I am a Ph.D. student at University of Johannesburg in South Africa. I am pursing my Ph.D. in Chemistry. My project is on the synthesis of graphene oxide-gold nanorods nanocomposite-porphyrin conjugate for cancer therapeutic application under the supervision of Prof Oluwafemi and Prof Kodama. This project it is made up of two disciplines synthesis and biological application. With all been said, I would like to express my interest and motivation in doing my biological application at Tohoku University in Kodama lab, as they have shown to have more knowledge in cancer therapeutic application and the lab is equipped with infrastructure and machinery for this application.
Posted on December 25, 2019
Japanese student's voice here
Admission
Learn more about our research, and find out how to make an application to join us
In our laboratory, we are developing diagnosis and treatment methods of cancer metastasis at the early stages in cooperation with scientists in the field of engineering and medicine. Members will master essential subjects required in my laboratory, such as fluid dynamics, tumor biology, animal study, and clinical science in our own educational curriculum.
We welcome you to our laboratory, who wishes to return your fruits to society at large and contribute to the world.
The Application Process to Postgraduate courses
- go to http://www.bme.tohoku.ac.jp/english/admission/
Brief explanation
- go to GUIDE FOR INTERNATIONAL STUDENTS, Tohoku University
We look forward to receiving your application, and to helping you with any further questions which you may have.
For inquiries regarding the admissions process, please contact the Admission Office , Graduate Schoolf Boomedical Engineering Admissions office or visit us at Molecular Delivery System Laboratory.
【Student acceptance】
Postgraduate students in other laboratories in either Tohoku University or other institutes are allowed to study in our laboratory. Please contact your supervisors.